Allen School's brick and mortar campuses are in the greater New York Metro area.  So many of us in this community are well aware of the logistics of getting around in one of the world's most densely  populated areas.  But if you live in any major city, you know what it is like to drive or take transit during peak hours.  It ain't pretty!
For most, online students, convenience is the primary motivator in choosing online study over on-campus study.  The ability to focus on studies according to one's own schedule, making time for work and family is one of the key drivers of a decision to study in a virtual classroom.  I know for many, avoiding spending hours in commute traffic to get to and from campus is a huge deal.  When I saw the graphic below, it really struck me, the insane volume of commuters that go in and out of New York City everyday.  It made me feel very grateful for my "work from home" job.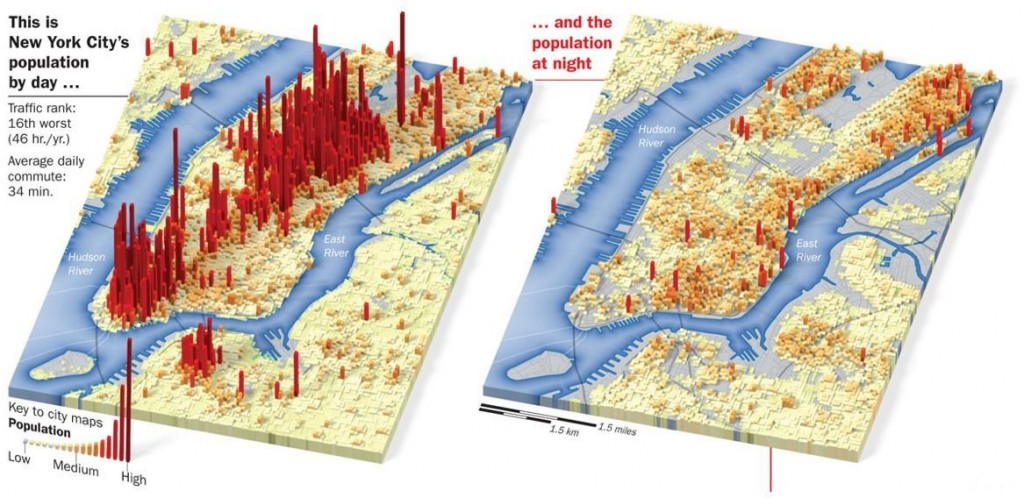 The map on the left shows population density in Manhattan and Brooklyn during business hours Monday through Friday.  On the right, it shows population density after business hours.  It is unbelievable how many folks flood into and out of the city every single day.  But I guess if you've ever sat in traffic trying to get through the Lincoln Tunnel or on Canal Street trying to get across town to the Brooklyn Bridge, then you know what a nightmare this can be.
Yet another reason to pat yourself on the back for choosing to study online.  Not only are you saving time by avoiding these horrible commutes, but you're not using fossil fuels to get to and from class and probably enjoying a lower blood presure too by avoiding gnarly traffic jams.