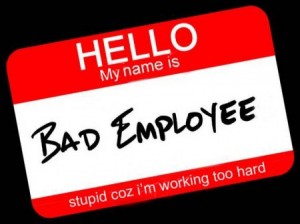 Some of the reasons people lose their jobs can appear to be taken from the routines of stand up comedians. Unfortunately, they are truly nothing to laugh at. I have isolated what appear to be things that play a great part in employer decisions to fire certain employees. Any single one on the list is a major no-no and one would think that each of them is really a no-brainer.
When it comes to getting fired, the reasons are usually pretty common, and not always within the employee's control. People get terminated for reasons such as company reorganizations, company financial setbacks , downsizing and other unexpected company problems. There are, however, plenty of reasons that people get fired that are not related to the company's troubles, but to shortcomings on the part of the employee.
Check out the list after the jump and see if you find some of them as amusing and incredible as I do. If you know of any other reasons people can get fired, post a comment to add to my list:
1. Forgetting to take a bath. Each of us has had the terrible misfortune to have sat next to someone who has poor hygiene, whether on public transportation, or in the workplace. The offender may appear to be oblivious to the "assault" on co-workers. Clearly, employers and co-workers are not oblivious to it and it definitely impacts on job retention. It is necessary to bathe daily and use whatever personal products that will keep you fresh during the long workday.
2. Talking negatively about anyone – especially the boss. In the workplace, speaking negatively about anyone is a major mistake as it will invariably get back to the person of whom one speaks. Speaking negatively about the individual who signs your check is on or close to the top of the list when it comes to being selected for termination. Workplace information passes at lightning speed. It is essential to keep negative information out of the office "information pipeline."
3. Drinking on the job. Drinking any sort of alcoholic beverage is absolutely not acceptable in the workplace or during the workday. It impairs judgment, slows down productivity, can make you short-tempered, unreasonable, depressed and overly emotional. It is inadvisable to drink at any juncture of a business day, on your lunch hour or at business lunches, even if offered by one's employer.
4. Sleeping at one's desk on a regular basis. Baby up all night? Someone snoring? Financial problems preventing sleep? These are legitimate reasons for being very tired when arriving at work. There are, however, no possible legitimate reasons for sleeping on the job, no matter what the personal circumstances. It is preferable to lose a day's work to stay home and catch up on rest than to be showcasing oneself in such a compromised, unacceptable and truly unforgettable manner in a professional environment. The employer hires a worker to do a job. Sleeping is, in essence, taking money in exchange for a day's work and then not delivering the work and one of the most clear cut reasons one can possibly provide to an employer for terminating employment.
5. Coming in late and leaving early. If one is chronically late and repeatedly leaving early, they may feel that it goes unnoticed. Unfortunately, they are incorrect. It surely is noted by co-workers and will be used at some point to discredit that person at a time, perhaps, when they are seeking a promotion, a raise, a special favor. This insidious form of stealing time multiplies on a daily basis and accumulates many hours of diminished productivity.
6. Complaining about the job. If one doesn't like one's job, it is recommended that they quit or that they keep that information to themselves. Once someone has agreed to take a job, they have entered into an agreement, irrespective of whether they have it in writing or not. They have made a tacit arrangement to accept payment for services rendered. If one cannot render the services in good faith and feel compelled to disparage the employer, the company, co-workers, patients, clients or customers, they are committing an act of irresponsibility, at best, and being unethical, at the very worst.
7. Falsifying information on a job application. Remarkably, this is a common occurrence and, given the global nature of the internet, one likely to backfire, sooner or later. It makes sense to provide honest information across the board, in terms of resume, job application, interview and on-the-job. No one wants to destroy their personal credibility with a lie that can come back to haunt them.
8. Conducting personal business at work. The average worker, according to a new survey by America Online and Salary.com, admits to wasting 2.09 hours per an 8-hour day, not including scheduled break times and lunch. Surprisingly, accordingly to a poll of 10,000 people, the older an employee is, the less amount of time wasted on the job. (Those born from 1930-1949, waste 0.50 hours a day at work, as opposed to those born from 1980-1985, who waste 1.95 hours a day on personal activities.) Those who are likely to retain employment would clearly be those who fall into the lowest end of the spectrum in relationship to time spent on non-work-related tasks.
9. Talking too much or gossiping. Employers take great issue with troublemakers and the surest way to be labeled a troublemaker is to be a gossip. Office politics have always existed and always will. Those who stay out of the line of fire, by being unwilling to carry stories from one person to another, no matter what the temptation, will protect their own reputation and keep out of the line of fire, so to speak. Getting involved in gossip is a sure-fire way to come under scrutiny by one's employer and set oneself up for possible termination when cutbacks are necessary.
10. Sharing confidential company information.Whether or not instructed to keep company information private, it goes without saying that all information about one's employer and the company are considered to be confidential. Not only is company information confidential outside of the business, it is also confidential within the various departments. It is a given, although a frequently unspoken rule, that one keeps all information obtained in the workplace as confidential, even after ending employment, either voluntarily or involuntarily. With the HIPPA laws in the medical field regarding patients' privacy, it is also a natural progression to keep all information about one's company and employers and co-workers under one's hat.