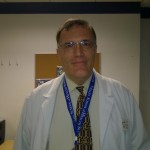 Daniel Stojanovski
The Allen School is (to me): 
A place where I, as an instructor can share my knowledge as a health care professional and educator with students who are eager to enter the medical field
My academic/medical interests are:  
My academic interests revolve around the medical field as well as business administration.
Some of the jobs I have had in my lifetime include:  
Hospital dirty linen department, Podiatrist Office Manager for: Podiatrist office, Family Practice office, Urgent Care office, Oncology office and Allied Health Instructor
The best thing about being an instructor is: 
The best thing about being an instructor is watching the growth of students from day one to graduation day.  Also, one doctor helps one patient.  One doctor teaching many assistants helps many patients.
When I am not in the classroom or on campus I can be found: 
I can be found spending time with my wife and children.
Movies I can watch over and over: 
It's a wonderful life, Caddyshack, and Tangled (I have kids)
Favorite TV shows: 
Sporting events, American Idol, The Voice, Big Bang Theory
Websites I visit daily: 
MSN.com,  Yahoo.com,  AZCentral.com
Favorite area restaurants: 
Grilling or Smoking in my back yard
Coolest things I have ever done: 
Worked with the Arizona Cardinals team on game day on the field when they were at Sun Devil Stadium
Places I have lived: 
Pennsylvania, Indiana, Illinois, and Arizona