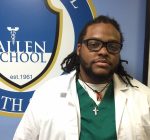 David Duperval
The Allen School is:
Wonderful, my mother graduated from Allen School in 1987.   It's been wonderful to come back and teach in the same institution that allowed my mother to use her education to have a successful 29 year career in the health care industry.
My academic/medical interests include:
Anatomy and Physiology
Some of the jobs I have had in my lifetime include:
Driving Instructor, Certified Nursing Assistant, Medical Assistant, Charge Nurse in a Psyche ward.
The best thing about being an instructor is:
Seeing my students achieve their goal and going on to be successful.
When I am not in the classroom or on campus I can be found:
At home
Movies I can watch over and over:
Rocky 1-4, Troy, Departed, Remember the Titans, Godfather 1, Scarface, and Paid in Full
Favorite TV shows:
Walking Dead and Game of Thrones it's a tie…
Websites I visit daily:
ESPN, CNN, E Trade, and World star hip hop
Favorite area restaurants:
Bonefish grill on Sunrise Highway
Coolest thing I have ever done:
Tour the Eiffel Tower
Places I have lived:
Queens NY and Long Island NY