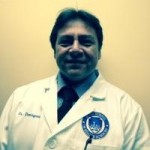 Dr. Jorge Dominguez
The Allen School is:
One of the best school in the medical assistant program where I'm very proud to be part of the staff. Is the school where I can remember and share couple of my experience as a professional and as a student. I like the faces of my students when I tell them about one particular case or one particular surgery. And also I like when I see a progress in the students and when they take advantage of my knowledge with their questions and curiosities in the field of the medicine.
My academic/medical interests include:
Medicine and Surgery in General.
Some of the jobs I have had in my lifetime include:
Physician-General Medicine in Ecuador and in Colombia, Medical Assistant, Clinical Research Coordinator, MA Instructor
The best thing about being an instructor is:
Be part of the formation of the new generation of medical assistant. With the satisfaction that my students have got the best of me in their process. I like what I feel when I see one of my students in the street and they recognize me and they thank me for all my teaching and advice, it doesn't have price.
When I am not in the classroom or on campus I can be found:
Usually at home baby-sitting or home duties or playing with my kids, playing soccer in the park, watching movies, handyman in my house (80% fixing vs 20% damaging, not too bad), in the gym.
Movies I can watch over and over:
I love science fiction, x-men, avengers, star war, hulk, the day after tomorrow, and a lot more. The problem with this is the limited time that I have. I cannot watch them again how I would like to.
Favorite TV shows:
The news local in English or Spanish and from my country if I have time, I have to watch the news at least once before go tho the bed, also Spanish soccer league, English premier league, champions league and I'm so excited waiting for the World cup. Also I enjoy watching with my older teenager son "the tonight show" starring Jimmy Fallon and all the soccer program mentioned before, "the full house", "spongebob squarepants" and couple more with my pre-teen daughter and "the chica show", "calliou", "super why", "pajanimals", "sesame street" and more with my 10 month-old baby.
Websites I visit daily:
NTN, CNN, el Universo.com ecuadorian news.
Favorite area restaurants:
Pollos Mario (Queens), el Chivito de Oro (Queens), Boca Juniors Stake House (Queens), Morton Restaurant (Manhattan), California Pizza Kitchen (Manhattan), Brazilian Grilled Restaurant (Queens)
Coolest thing I have ever done:
The coolest thing that I have ever done was when I was in the army, I jumped for first time from the diving board that was 20 mts high in the ecuadorian army school pool. It was 20 mts high but I felt like it was 100 mts. I thought that I was falling out of the pool because at that height the pool looked very small.
Places I have lived:
Guayaquil (ECU), Cali (COL), Elmhurst (NY)