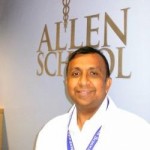 SK M Rahman
The Allen School is:
A learning Institution, a nice working place where I can share my knowledge and experiences.
My academic/medical interests include:
Clinical Medicine, Neurophysiology and pain management
Some of the jobs I have had in my lifetime include:
ER Physician, Anesthesiologist, Clinical Assistant of Medicine of a General Hospital, Administrative manager, Registered Nerve Conduction Technologist,
The best thing about being an instructor is:
Interaction between different group of people, mass communication and sharing knowledge
When I am not in the classroom or on campus I can be found:
At home with my family, watching movies, listening music and long drive.
Movies I can watch over and over:
God Father, Cast Away, Enemy at gate, Three Idiots
Favorite TV shows:
Discovery and History channel
Websites I visit daily:
BBC world, Amazon, Face Book
Favorite area restaurants:
Red Lobster at Times Square, Kabul kabab at Flushing, Sagar Chinese at Hillside Ave
Coolest thing I have ever done:
Did first CPR of a cardiac arrested boy and put on ventilator. The boy was released from the hospital after a week. I will not forget his smile during his release.
Places I have lived:
Jamaica (NY); Makkah (KSA), Dhaka, Khulna(Bangladesh).