Success in Healthcare Education Since 1961
For over 60 years, the Allen School of Health Sciences has built a reputation for being one of the most dedicated institutions in training graduates to become successful healthcare professionals. To date we've launched the careers of thousands of healthcare professionals in many aspects of patient care, including Medical Assisting and Nursing Assistant professionals.займ на карту
Call Now To Reserve Your Seat
Healthcare Training Classes Start Soon
Do YOU have what it takes to be our next success story? Classes are enrolling now. You can find the Allen School of Health Sciences three campus locations in Brooklyn, NY, Jamaica, NY and Phoenix, AZ. Contact us today to learn why our accredited healthcare programs provide you an incredible opportunity to succeed, and why we have continued to hold the confidence of employers in the Allied Health Industry for more than half of a century.
Learn More
Did You Know?
The Allen School of Health Sciences has been family owned for three generations?
Jamaica, NY
The story of the Allen School begins at our Jamaica, NY campus in 1961. This campus was originally conceived to provide Medical Laboratory Technician and Medical Assistant training to the residents of Queens. Along the way, we also offered a Medical Office Assistant program, but has since been discontinued. Today this is our main campus, conveniently located in Jamaica, Queens.
Available Programs
Medical Assisting
Nursing Assisting
Learn More
Did You Know?
The teaching staff at the Allen School of Health Sciences is made up of Doctors, Nurses, and Other Healthcare professionals with REAL world experience
Phoenix, AZ
If our New York campuses aren't convenient for you, consider getting your training as a Medical Assistant in sunny Arizona! With the expansion to our Phoenix campus, we've headed west with the same quality education our New York students enjoy in our medical assisting programs and our nursing assistant programs.
Available Programs
Learn More
Programs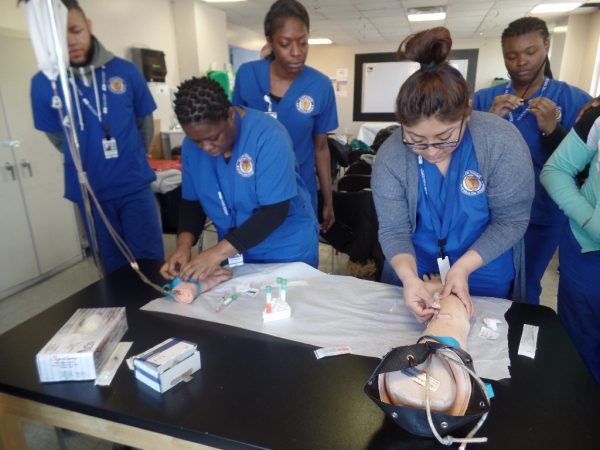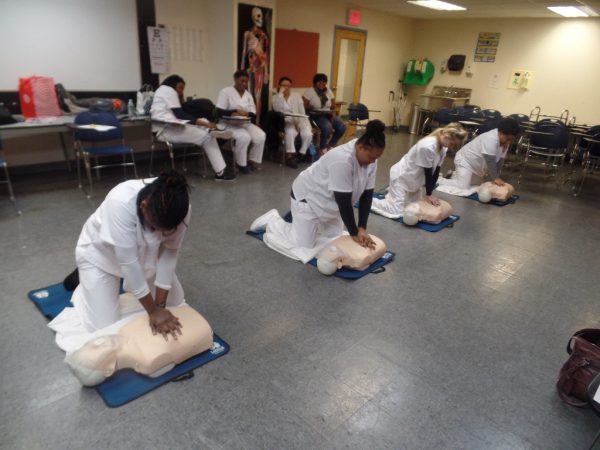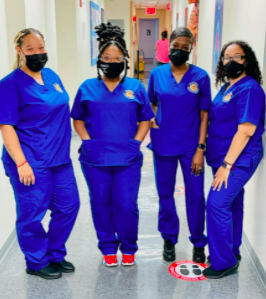 Launching Your Career in Healthcare
Do you daydream about what it would be like to have a more fulfilling career? Would you like job security, great benefits and the excitement of being a part of an ever-growing field? Kick-start your career in the healthcare industry with the accredited healthcare training classes from The Allen School of Health Sciences.
Your education is the foundation for your future. Why would you entrust that to just anyone? At the Allen School, we've been launching successful healthcare careers for over 60 years!
One of our medical assisting programs graduates may have even checked you in at your last doctor's appointment, while one of our nursing assistants may be taking care of a member of your family at this very moment.
Don't Wait! Healthcare Training Classes Start Soon
Whether you want to become a medical assistant and enjoy the job security of working in a busy medical office, or become a nursing assistant and help take care of people in the most vulnerable times of their lives, the Allen School can prepare you to step into a profession you can be proud of.
For the convenience of our students, we have campuses in three separate locations: Brooklyn, NY; Jamaica, NY; and Phoenix, AZ.
Which program is right for you? Visit one of our campuses today and get a taste for how a rewarding career in the healthcare industry could change your life. Click Here to read more Stories of Success!
Stories of Success
Thousands of Allen School of Health Sciences graduates have learned the office and clinical skills necessary to launch their healthcare career. Read their stories and you will see that attending Allen School of Health Sciences and learning valuable skills is, in fact, the right choice.
Sandy S.

Medical Assistant

Being raised by immigrant parents has taught me humility, not only for myself, but most importantly for the rest of the world. Humility is the quality of being humble and that is the quality my parents have passed on to me. I have learned to empathize and show compassion and accept others for who they are. I encountered motherhood at a young age. Having a child of my own has taught me so many things. For starters,  it's taught me to be selfless, patient, kind, and loving. Being a parent is about wanting more for your child, and it's about inspiring them to be all of those things along their own life's journey. There is no way to be a perfect mother, BUT a million ways to be a good one. Being part of the medical field has been a dream of mine. Attending Allen School has given me the opportunity to live my dream and I am so grateful. Being a student here at Allen School has molded me and helped me grow as an individual both professionally and personally. Not to mention, I have had the opportunity to meet and work with instructors who have guided me throughout my program. During my time here we encountered a worldwide pandemic and Allen School had to transition my studies remotely; they did not disappoint. Instructors ensured that I and the rest of my classmates strived during online learning. Thank you Allen School for giving me the opportunity to be a part of this program. I am so thankful for my mother and husband for being my support system. Most importantly, I am grateful for my daughter who is my motivation.
( Allen School does not guarantee job placement)

Jonathan Yanes

Medical Assistant

I realized that no one could get in my way but myself and every day I walk into school I am challenged to expand on my learning, sharpen my skills, and become the best of the best. All teachers make sure that we excel with every student, and I fell in love with the idea of having teachers like the ones I have today, that push me to the limits and beyond to achieve my full potential, and remind me that from the moment I filled that application, it only gets better from here and on.
(Allen School does not guarantee job placement)

Mirella Vega

Medical Assistant

Allen School was a blessing in my life. I got into this field not knowing what to expect. Thanks to Allen School, their great teachers, and other staff, they made it a wonderful learning experience. I learned to get rid of fear when going into a new atmosphere. I gained a wonderful experience and a family. Thank you Allen for helping me put my career on track.
( Allen School does not guarantee job placement)

Kassandra Quintero

Medical Assistant

My experience here was amazing the instructors are very helpful; they push you to do your very best. The Allen School to me feels like a second home and a second family. I met a lot of new amazing people and of course it's where I met Yajaira, my best friend; we are literally inseparable. Coming here was the best choice I have ever made.
(Allen School does not guarantee job placement)

Yajaira Duarte

Medical Assistant

My experience here at the Allen school was great. All the instructors are very supportive and helpful. You learn that you are never alone. I honestly wouldn't trade this for the world. I met so many amazing people & most importantly, my best friend Kassandra. We all pushed each other to do our best. No one was left behind or out. We're all a second family to each other.
(Allen School does not guarantee job placement)