Allen School Phoenix Campus in Arizona
15650 N. Black Canyon Highway Suite 210, Phoenix, AZ, 85053
Join One of the Top Medical Assisting Programs in Phoenix, AZ
The Allen School is famous for our programs in and around New York City, but did you know we can also help you with MA programs in Phoenix, Arizona? Our Phoenix campus offers you all the same great career advantages.
Medical assisting is what we're known for – and it shows in our students' success.
Did you know medical assisting is one of the fastest-growing professions in healthcare? As the population ages, it will be more and more important that medical assistants be there to help doctors and other care team members with vital day-to-day tasks.
With the right training, medical assisting is easy, enjoyable, and fulfilling. You can help people in need and set a course for a lucrative career that will let you reach your life goals more easily.
Medical assisting is one of the nation's fastest-growing occupations. The medical assisting job growth can be attributed to various factors, such as the increase in the number of elderly persons who need medical assistance, technological advancement, and the predicted increase in outpatient care facilities and physicians' offices.  
Bureau of Labor Statistics, U.S. Department of Labor, Occupational Outlook Handbook, Medical Assistants, at https://www.bls.gov/ooh/healthcare/medical-assistants.htm (visited March 16, 2023).
A medical assistant is a healthcare team player working alongside physicians in any medical clinic's front and back offices, such as outpatient facilities and medical offices. Many aspiring to become medical assistants frequently ask questions while seeking insights into the profession.
Are you looking for an accredited healthcare school that really GETS you?
At the Allen School of Health Sciences, we help you become a medical assistant and stand by you every step of the way. We know making the decision to change your life is exciting, but it also can be tough. Our instructors will support you to make sure you're prepared for the career you really deserve.
Arizona Medical Assistant School FAQs
Allen School in Arizona has provided answers to some medical assistant FAQs to help you make informed decisions about your future. Some of the frequently asked questions for a medical assistant include:
Is The Phoenix Medical Assistant Program Right For Me?
Do you have a passion for helping others and working as part of a healthcare team in a rewarding career? If so, the Allen School of Health Sciences – Phoenix campus Medical Assisting program could be an excellent opportunity for you. With our accelerated blended program of online and hands on learning in a clinical setting including a clinical internship, you will be fully prepared for a rewarding healthcare career in less than a year.
What Responsibilities Do Phoenix Medical Assistance Perform? 
At Allen School in Phoenix, we train medical assistant students to perform administrative and clinical duties. Here is a quick overview (duties vary from ​medical practice to medical practice depending on location, size, specialty, and state law):
Clinical Duties (may include, but not limited to):
Taking medical histories

Explaining treatment procedures to patients

Preparing patients for examinations

Assisting the physician during examinations

Collecting and preparing laboratory specimens

Performing basic laboratory tests

Instructing patients about medication and special diets

Preparing and administering medications, including by intramuscular, intradermal, and subcutaneous injections—including vaccinations/immunizations, as directed by a physician or other licensed provider (e.g., a nurse practitioner or physician assistant)

Transmitting prescription refills as directed

Phlebotomy

Taking electrocardiograms

Wound care and changing dressings
Medical assistants' administrative duties vary from office to office depending on the location, size, and specialty. These administrative duties include:
Using computer applications

Answering telephones

Welcoming patients

Updating and filing patient medical records

Coding and filling out insurance forms

Scheduling appointments

Arranging for hospital admissions and laboratory services

Handling correspondence, billing, and bookkeeping
How Long Does It Take To Become A Medical Assistant In Phoenix, AZ? 
The time taken to become a medical assistant varies depending on the level of education involved. In most cases, it takes approximately nine months to two years to become a medical assistant but what determines the exact time is whether you are taking a certificate, diploma, or associate degree program. Our Phoenix Medical Assistant Program will vary in length, but our accelerated program is only 9 months (less than a year) which includes an 11-week internship.
How Do I Apply To Attend Allen School In Phoenix?
At Allen School, we are delighted to help you take the first step toward achieving your dream career in the healthcare industry. All potential students need to speak to an enrollment advisor. Each student will complete a career planning session. All students attending the Allen School are required to have a high school diploma or GED. You can contact us at 888-412-3178, go to our web site www.allenschool.edu or reach out to us on Instagram @allen_school_phx
What Are The Benefits Of Medical Assistant Certification?
You do not require to be certified to become a medical assistant. However, certification is essential as it proves to the employer that a medical assistant has achieved the highest standard of education and credentialing in medical assistance. In addition, the number of employers seeking national certification is rising since certified medical assistants can perform a wide range of healthcare duties without limits in a healthcare facility. 
What Does The Day In The Life Of A Medical Assistant Look Like?
The roles of a medical assistant are not physically demanding and do not involve difficult schedules. In most cases, medical assistants enjoy regular Monday to Friday 8 A.M.-5 P.M. shifts with paid time offs and benefits such as allowances in a professional medical environment. During regular shifts, a medical assistant might be tasked with performing either clinical or administrative duties.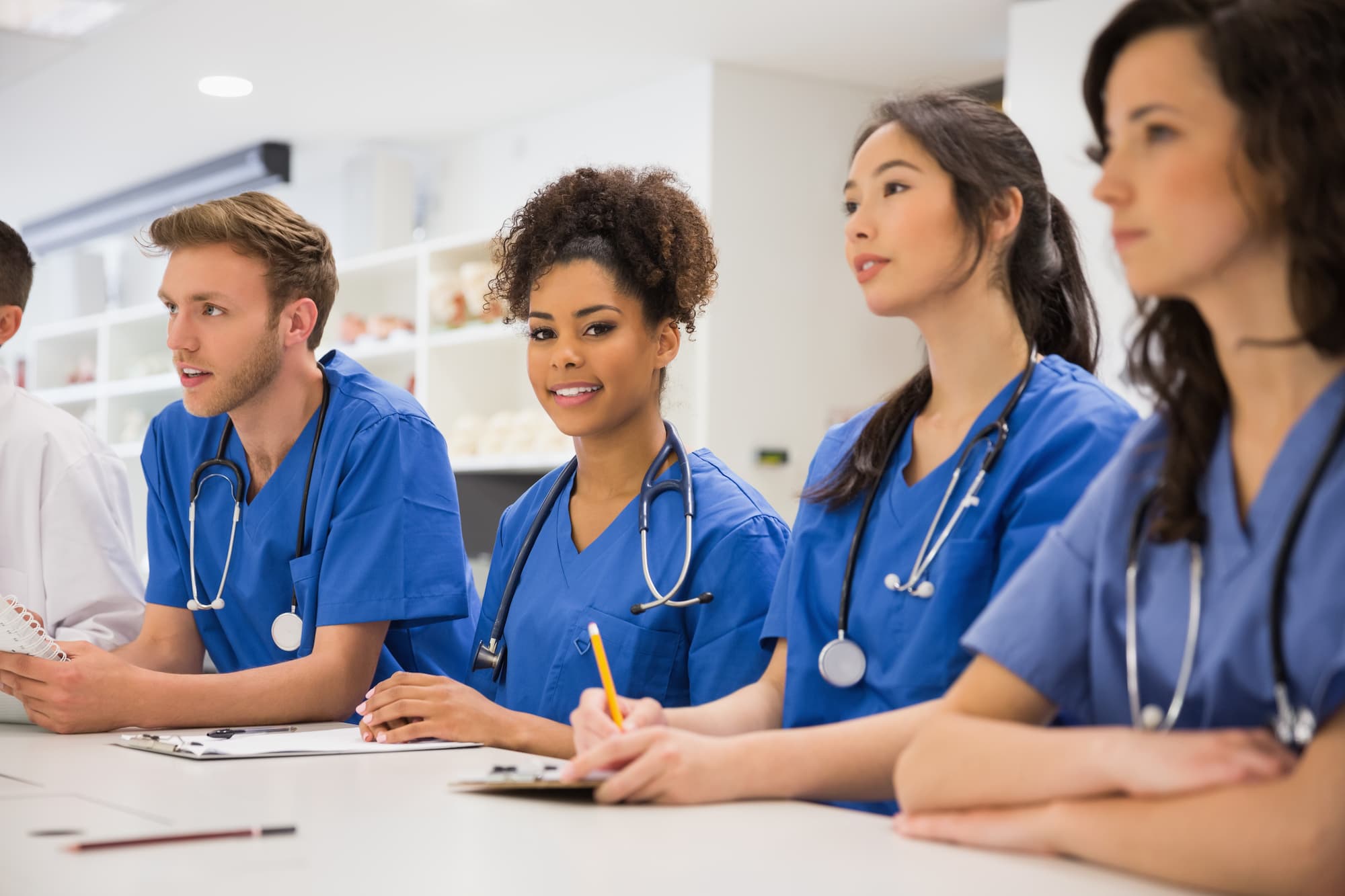 Photo Credit: ESB Professional
What Is The Career Outlook For Medical Assistants?
We describe the career outlook for medical assistants as extremely impressive. The demand for medical assistants is high and is anticipated to grow over the next few years. The job outlook for 2021-2031 is growth of 16%*
Bureau of Labor Statistics, U.S. Department of Labor, Occupational Outlook Handbook, Medical Assistants, at https://www.bls.gov/ooh/healthcare/medical-assistants.htm (visited January 06, 2023).
Considering more patients demand more care and health service, making medical facilities hire more medical assistants to support their need to serve more patients. 
Are you ready for your new career as a medical assistant in Arizona? Then, Allen School of Health Sciences is the perfect destination. Our trained staff guide you accordingly to help you achieve your career goal as a medical assistant. Contact us for inquiries on Medical assistants in Phoenix, Arizona.
What You'll Learn at the Allen School of Health Sciences Phoenix Campus
Medical assistants are a crucial part of any healthcare team. They can be employed in doctors' offices, hospitals, home care companies and many other places. They perform a wide range of tasks that help keep senior physicians informed and on task.
Our students master a slew of vital medical tests, including EKG, blood pressure, phlebotomy (blood drawing) and others. They also learn about the healthcare system so they can help patients and coworkers navigate it easily.
Last but not least, you'll be prepared for all front office operations and communications – in writing and on the phone. This makes you a versatile team member who'll be able to help with administration or patient tasks wherever you're needed.
Program Offered
The Phoenix Campus is proud to offer a nationally accredited healthcare program for Medical Assistant students.
Medical Assisting
Office meets clinic in this exciting career working with medical professionals in a doctor's office, clinic, or hospital. The Medical Assistant program, offered at all of our healthcare training school campuses, prepares you to play an essential role in the day-to-day functions of healthcare offices of all types and sizes.
Learn More
Phoenix Campus Scholarship Opportunities
The Allen School of Health Sciences is pleased to offer scholarship opportunities to students that meet the criteria.
Learn More
Do YOU have what it takes to be our next success story? Click Get More Info to get started now.
Healthcare Career Resources and Preparation Second to None in Arizona
All our students get the total career services package – resume writing assistance, job search help, interview preparation and much more. From your first class to your first job placement, our student services team is with you all the way.
To learn more, contact The Allen School of Health Sciences today. We look forward to meeting you!