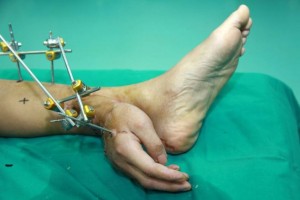 From time to time, this blog likes to look back at particularly scary medical procedures from the 18th and 19th Centuries to illustrate just how far the field you're entering has come.  Whether you're studying to become a medical assistant or a certified nursing assistant, you're learning the most up to date practices and processes in the medical field today at Allen School.
Today though, in line with our recent tendency to "flip the script" we're looking at a procedure that comes straight out of a futuristic science fiction movie.  However, this is no longer fiction; now it is scientific fact.  Check this out!
Xiao Wei lost his hand to the industrial machine he was operating at his job.  Quick thinking co-workers scooped up his severed limb and took it and Xiao to the hospital in Changde, China.  Doctors there said they could reattach the hand completely, but poor Xiao was in no condition to undergo that rigorous surgery.  So for weeks, while they nursed him back to health, doctors grafted his dismembered hand to his own ankle where it lived happily until Xiao was healthy enough for the reattachment surgery.  Xiao's hand has been reconnected and his doctors say he will likely regain full use of it in time.
Are you ready to be employed in an industry that is perfecting some very miraculous treatments for life's countless ills?  You should be!