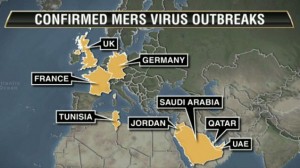 Part of one's
medical assistant training at the Allen School
includes learning to be current in one's knowledge of trends affecting public health.  This is especially true of all threats of outbreak like the SARS epidemic of a few years ago and, more recently, the West Nile Virus.
This blog always tries to keep readers informed of emerging threats to global health with articles keeping tabs on MRSA and other scary communicable diseases. That's why we're reporting today on the Middle Eastern Respiratory virus or "MERS".  Not to be confused with MRSA (methicillin-resistant staphylococcus aureus), the anti-biotic resistant virus, MERS causes fever, cough, and shortness of breath, and can be lethal, particularly among older people and those with pre-existing health problems.  The disease is linked to exposure to camels (no, not the cigarettes, but those'll kill you too).
Two confirmed cases have been reported here in the US recently and are believed by CDC researchers to have been brought here by health workers coming to the US from Riyadh Saudi Arabia.  According to the World Health Organization's latest count, MERS has killed 145 people out of 536 lab-confirmed infections.  So this is a disease worth keeping an eye on.  As a student working on nursing assistant certification, you should learn some more about this and other emerging diseases so you can be vigilant for the symptoms among the patients you'll serve once you graduate.