centrifuge out of a bicycle
, or the doctoral student who developed a
surgical suction device
that could be manufactured and sold for a mere $3, today's story offers the same spirit of frugal medical achievement.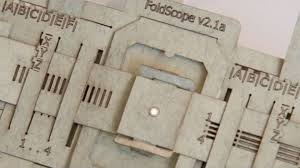 According to
this story
from ABC News, "Manu Prakash, a professor at Stanford University, and his students have developed a microscope out of a flat sheet of paper, a watch battery, LED, and optical units that when folded together, much like origami, creates a functional instrument with the resolution of 800 nanometers – basically magnifying an object up to 2,000 times."  This amazing idea and the ones referenced above prove that it doesn't take a fortune to produce things that will help advance the cause of medicine and aid millions of people for decades to come.
Of course, the Allen School is also proof of that axiom. The
certified medical assistant course
is eminently affordable and produces hundreds of certified nursing assistants every year. Certified nursing assistants who go out into their communities and, over the course of their lifetimes in this compelling career, provide comfort, aid suffering and help thousands upon thousands of people to reach better states of health and wellness.