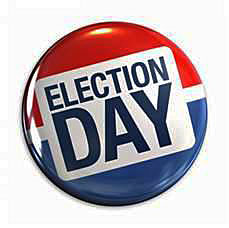 OK, well neither should medical assistant trainees nor medical billing and coding students forget to vote.  Really, anyone reading this blog post needs to know that today is Election Day here in the US and the mid-term elections include races for every seat in the US House of Representatives.  Here in New York, the Governor is up for re-election.
It is your quintessential right as an American to exercise your franchise and go to the polls to make your voice heard.  Local races for state assembly, judicial offices and many ballot initiatives may also be on your local ballot.  Here's a great site for information on every race state wide in New York.  If you haven't yet read up on the issues and candidates, here's your chance to "cram" for the exam.
Whatever you do, make sure you get out and vote.  It is your civic duty as an American and hundreds of thousands have died to protect your right to do so.  Happy Election Day from your friends here at the Allen School Blog!