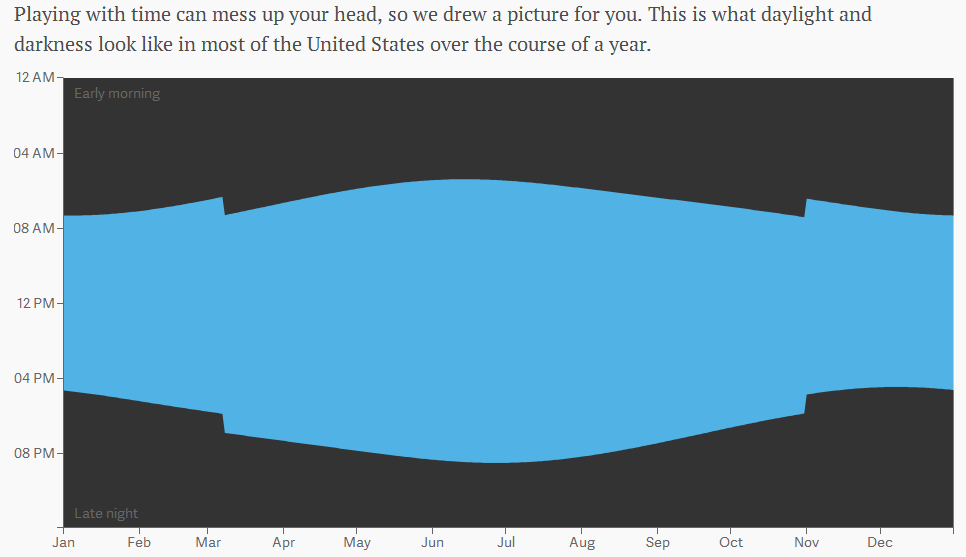 Yes, we spun the clock back an hour over this past weekend.  That's why you're reading this blog post after arriving to class an hour late (oops)!  But in all seriousness, the semi-annual ritual of monkeying with the linear nature of time known as "Daylight Saving Time"  (not daylight savings) as some mistakenly refer to it seems to please some and annoy others.
Wikipedia explains, "While the times of sunrise and sunset change at roughly equal rates as the seasons change, proponents of Daylight Saving Time argue that most people prefer a greater increase in daylight hours after the typical "nine-to-five" workday.  Supporters have also argued that DST decreases energy consumption by reducing the need for lighting and heating, but the actual effect on overall energy use is heavily disputed."
However, whether or not the shift results in producing more daylight during daytime hours for you depends on you routine.  If you're working the third shift as a nursing assistant, you likely aren't seeing much daylight regardless and the whole "Fall back-Spring Forward" action seems more like an inconvenience than anything else.  Nevertheless, for your nursing assistant training student counterparts, still studying to earn certification, the extra hour of sunlight makes it more pleasant; providing a daylight morning commute for example.
The folks over at Quartz.com have built this nifty interactive graphic you can use to determine whether or not Daylight Saving is something that works for you or represents a pointless exercise.  Simply visit the link here, enter in your awakening time and bed time and see how much (or little) the clock shift impacts your exposure to daylight.  However, if you're late for nursing assistant training class because you forgot to change the clock, maybe do it later.  Get to class!