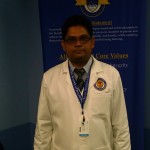 Dr. Aminul Mannan
The Allen School is (to me):
A new promising employer.
My academic/medical interests are
CLINICAL. Anatomy, Physiology, EKG, Phlebotomy.
Some of the jobs I have had in my lifetime include:
HOUSE OFFICER (SURGERY), INTERN (Family Practice), Clinical Research Coordinator, Dental assistant, Reporter.
The best thing about being an instructor is:
testing my lifetime knowledge and experience. Feel like a leader.
When I am not in the classroom or on campus I can be found:
at home
Movies I can watch over and over:
Lord of the Ring, James Bond movies, some sci-fi.
Favorite TV show:
National Geographic
Websites I visit daily:
Cricinfo, News.
Favorite area restaurants:
Jamaica, Queens, NY.
Coolest things I have ever done:
Passing all steps (Step 1, 2, CSA, 3) of US Medical Licensing Exam (USMLE). Brought Family and raising kids in USA.
Place I lived:
Jamaica, NY, USA. Elephant Road, Dhaka, Bangladesh. Berhampur, Odisha, India.