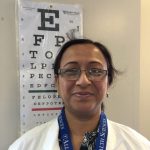 Dr. Sultana Rahman
The Allen School is to me:
One of the best institutes of its time.
My academic/medical interests include: Learning new medical innovations. Some of the jobs I have had in my lifetime include: Physician in a renowned hospital in Bangladesh; medical assistant in the United States; and medical instructor. The best thing about being an instructor is: Giving the right training and skill to the students who pursue medical assistant careers.
When I am not in the classroom or on campus I can be found:
At home with my family.
Movies I can watch over and over:
Pretty Woman, Outbreak, and John Q.
Favorite TV show:
Greys Anatomy
Websites I visit daily:
Blackboard, Medscape, and YouTube
Favorite area restaurants:
Olive Garden, Sagar Chinese, and Subway.
Coolest thing I have ever done:
visited Niagara Falls in the middle of winter.
Places I have lived:
Bangladesh, Buffalo, NYC