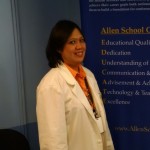 Eleanor Mann
The Allen School is:
A place to educate and inspire students to achieve confidence to face challenges in a life and create a better place for them.
My academic/medical interests include:
Psychology and computer technology
Some of the jobs I have had in my lifetime include:
MA-business skills Instructor, Adjunct Continuing Ed. Professor, Training Assistant
The best thing about being an instructor is:
The opportunity to  interact with different generations, age groups, cultural and economic background- there is mutual learning.
When I am not in the classroom or on campus I can be found:
In the park or local beach, if I am not shopping.
Movies I can watch over and over:
Casa Blanca is my top choice, but I love most of the black and white classics as well.
Favorite TV shows:
Haven: I enjoy the strong woman character fixing the "troubles" in Maine.
Websites I visit daily:
I check my news in Yahoo.com
Favorite area restaurants:
Tomo in Queens Blvd., best sushi -good price.
Coolest thing I have ever done:
Took a small boat to a sandbar surrounded by water and stayed there for the whole day enjoying the sun.
Places I have lived:
Queens, NY