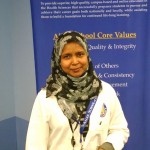 Dr. Shayma Mazumder
Allen school is to me
The Allen School is a great opportunity to develop skill and knowledge to step in the field of allied health.
My academic/ medical interests are:
I want to see myself in the field of medicine as a practicing physician at the community level. It is great to spend time at the Allen school and be involved in creating some reliable and well skilled assistants who will be part of a healthcare team in future.
Some of the jobs I have had in my life time included:
Full time Physician in back home Physician Assistant in Brooklyn, NY Instructor Allied Health in many places Billing Coordinator in Bronx, NY Research Coordinator, Queens NY Externship in Clinical psychiatry and Neurology in Queens, NY.
The best thing about being an instructor is:
A fun thing about being an instructor is to experiment different ways of teaching and how they impact the learner's behavior. The best thing is to hear "my life has changed, I got a job!"
When I am not in the classroom or on campus I can be found:
When I'm not on campus, back to real life. So many things to do…so lie down on couch with a book and fall asleep in no time.
Movies I can watch over and over:
Not a movie person so none really.
Favorite TV shows:
Full House and the Brady Bunch.
Websites I visit daily:
Google, Yahoo, and Facebook.
Favorite area restaurants:
Sagar Restaurant.
Coolest things I have ever done:
Spend an entire night on a roof top during a full moon but not alone!
Places I have lived:
Bangladesh and the USA.