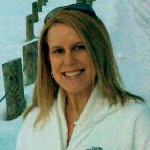 Staci L. Barnes
Month: February 2012
Campus: Online
My name is Staci L. Barnes, M.S., M.Ed, and have been instructing with Allen School since September 2011. I have the honor of instructing Introduction to Health Information Management and Anatomy, Physiology & Terminology 2. I have been in the Social Services field for over 10 years and have held positions such as Intensive Case Manager, Outpatient Therapist and Crisis Coordinator; I also have experience in the Juvenile Justice field serving as a Juvenile Probation Officer for many years.
I am currently a full time Master's Level Social Worker and a fee for service Mobile Therapist/Behavior Specialist Consultant. When I am not working, I like to spend my free time traveling, reading, attending sporting events and concerts and enjoying my new hobby- fencing. I also enjoy my down time where I relax with my beloved cat, Buddy and the other love of my life, Blitz (a dwarf bunny).
It is truly an honor to be chosen for Faculty of the Month and I am so grateful for this opportunity with Allen School and having a positive impact on the students in my classes.