Medical Assistant Training Program in Phoenix AZ
15650 N Black Canyon Hwy #210, Phoenix, AZ
The medical assistant job field is projected to grow much faster than average in the coming years as demand for healthcare services continues to increase. This growth is expected to create many job opportunities for medical assistants in various settings, such as hospitals, clinics, and private practices. A medical assistant is a vital member of the healthcare team who performs both administrative and clinical tasks to support the work of physicians and other medical professionals.
The Allen School of Health Sciences Medical Assistant Training program in Phoenix, AZ, is designed to provide students with the knowledge and skills necessary to succeed as a Medical Assistant. Our training program will provide insight into some key considerations when pursuing a career as a Medical Assistant and aims to assist you in making an informed decision.
Allen School of Health Sciences brings our longstanding tradition of excellence in Medical Assistant training to Phoenix, AZ. Since 1961, we have been providing healthcare education to students preparing for a career in the medical field. At the Allen School, you can achieve your educational goals quickly while still receiving the professional experience and hands-on training needed to thrive in a career as a Medical Assistant.

Is Medical Assisting the Right Career for You?
For many Allen School students and graduates, their journey towards becoming a medical assistant began with a big dream: to find and pursue a career that made it possible to help others every single day. If you're interested in the healthcare field and enjoy making a positive difference in the lives of others, a career as a medical assistant might be the ideal fit.
Because medical assisting is such a versatile career path, your day-to-day job can take shape in many different ways and a variety of settings. For many Allen School students in the medical assistant training program, it is this flexibility that attracted them to the field. Depending on your professional goals, you can choose a specific job type and focus within the medical assisting field, so you can enjoy doing the exact type of work that interests you most.
To successfully pursue a career as a medical assistant, it's important that you are prepared to learn new skills and improve your existing knowledge constantly. The healthcare field is always evolving, making it an exciting industry to be a part of. Additionally, because you'll typically be working closely with patients, part of being an excellent medical assistant is the ability to be friendly, patient, and understanding.
Finally, be prepared to take on new challenges and have a positive, flexible attitude. Medical assistants play important roles in healthcare offices everywhere, and their responsibilities may include a wide variety of duties including both administrative and clinical. For Allen School students and new graduates, it's exciting to think about the many forms their future career can take.
What Does It Take to Become a Medical Assistant in Phoenix, AZ?
Are you interested in the healthcare field and enjoy making a positive difference in the lives of others? Then, a career as a medical assistant might be ideal for you. Medical assistants are invaluable to the success of any medical facility, as they help doctors and nurses with various administrative and clinical tasks in multiple offices or medical facilities.
While certification is not mandatory to become a medical assistant in Phoenix, AZ, completing and graduating from a medical assistant training program is a requirement. This training makes you more confident in your abilities when applying for a medical assistant position and increases your chances of being hired. Obtaining certification, however, is important as it allows you to work as a medical assistant in any state, particularly those that mandate certification.
What Classes Will I Take in The Phoenix Medical Assistant Program?
At the Allen School of Health Sciences, we are dedicated to offering you a medical assistant training program that prepares you to excel as a professional in the healthcare industry. Our in-depth medical assistant program is designed to equip you with theory, clinical, and professional skills to help you succeed as a medical assistant and prepare you for your certification when you choose.
Our Medical Assistant Training Program involves a 34-week curriculum plan with 21 courses divided into eight modules. Once you complete the first five modules, we will allow you to participate in our internship courses to test your skills and knowledge.
What Skills Can I Expect to Learn from The Phoenix Campus Program?
At the Allen School of Health Sciences, our Medical Assistant Program provides a curriculum that enables students to understand the theory and acquire skills in many areas, such as:
Understanding  the structure and basic function of the human body as well as common

illnesses and disorders




Measuring  vital signs such as pulse, temperature, blood pressure, and respiration and preparing patients for examination




Performing  phlebotomy, basic urinalysis, and waived laboratory tests




Obtaining  electrocardiograms




Administrative  skills such as appointment scheduling, patients billing practices, front office operation, medical records management.




Effective  communication and good patient relations




Medical law and ethics




Overview of the health care system and understanding the healthcare insurance

program




Computer  literacy, like keyboarding and word processing
How Likely Am I to Be Hired in Phoenix After Graduating?
There has been an increased need for medical professionals in the healthcare industry. Considering the increased demand for more preventive health services among patients, especially the elderly in Phoenix. The outlook for Medical Assistants is trending in a positive and sustainable direction for opportunities and advancement.
The medical assistant job market is projected to be strong, with new job openings arising from retirements and individuals transitioning to different occupations. Giving us highlights for the long-term stability and promise of the medical assistant career.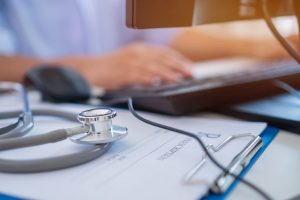 What Does a Medical Assistant Do?
A medical assistant is responsible for a wide range of tasks in a healthcare office, with job responsibilities typically including both clinical and administrative tasks. Depending on the specific work environment, including factors such as location, office specialty, state law, and practice size, a medical assistant's job description may vary somewhat. In general, you can expect to be interacting with both patients and other medical professionals on a daily basis.
Here are some of the typical tasks a medical assistant may expect to encounter on the job:
Medical Assistant Administrative Duties
Answering telephone calls
Greeting patients and helping them sign in as needed
Scheduling patient appointments
Arranging lab services and hospital admissions
Filing and updating patient medical records
Completing and coding insurance forms
Bookkeeping
Managing patient billing and payment processes
Utilizing office computer applications as needed to complete daily tasks
Medical Assistant Clinical Duties
Collecting information to complete medical histories
Preparing patients for the examination process
Educating patients on treatments, procedures, and medication
Assisting the physician as needed
Collecting lab specimens and performing basic lab tests, including drawing blood
Administering (and preparing as needed) medication
Communicating prescription refills when directed
Taking electrocardiograms and other basic tests
Changing dressings and removing sutures
There are also specialized medical assistants that perform highly specific roles, such as patient liaison, patient-centered medical home care team member, and more. These job types may require special or additional certification and training.
Where Can You Work as a Medical Assistant?
Medical assistants are an integral part of a variety of healthcare facilities, including physicians' offices, outpatient clinics, and hospitals. No matter what type of facility you work in, you can typically expect to work closely alongside doctors, nurses, and other medical professionals to successfully deliver care and services to patients.
What Training or Education is Required to Become a Medical Assistant?
Specific training and certification requirements may vary from state to state, but you will generally need to complete a formal medical assistant training program successfully. To learn more about the Allen School and our excellent medical assistant training program in Phoenix, contact our admissions team today.
Start Your Career as a Medical Assistant in Phoenix
Starting a medical assistant career offers many benefits, including working in a growing and in-demand field, gaining hands-on experience, and learning from experienced medical professionals. The Allen School of Health Sciences Medical Assistant Training program is a great place to start your journey.
For over 60 years, the Allen School of Health Sciences has trained and prepared thousands of students, enabling them to succeed in their medical assistant careers. If you are ready to take the first step towards a rewarding healthcare career, contact us to enroll in our Medical Assistant training program in Phoenix, AZ, and achieve your aspiration to become a competent medical assistant.
Providing Phoenix with the Highest Quality of Medical Assistant Education
Allen School's centrally located Phoenix campus makes it easy for you to attend a highly respected Medical Assistant school. Our program is designed to train you in everything you need to prepare for your Medical Assistant certification while still focusing on helping you graduate quickly. After graduation, you can work at a doctor's office, hospital, clinic, surgery center, home care organization or nonprofit that serves those in medical need. The opportunities are almost endless.
We structure our classes in a manner that can support your busy lifestyle, so even if you are already employed and looking to advance your career or are caring for your family, we can work with you to find a schedule that meets your needs. All of our students receive specialized hands-on clinical training and the knowledge you need to make a difference in your new career.
We also have strategic partnerships with healthcare organizations throughout the region that can place you in an internship that will allow you to hone your skills in the real world.
Medical Assistant
Medical Assistants are a cornerstone of nearly every healthcare facility. You can become an essential member of both the clinical and administrative functions of caring for people in need. You can work with medical professionals in a doctor's office, clinic, or hospital. Our Phoenix campus prepares you to play an essential role in the day-to-day functions of healthcare offices of all types and sizes.
Learn More
Do YOU have what it takes to be our next success story? Click Get More Info to get started now.
The Allen School of Health Sciences Equips You with Everything You Need
What can you expect to learn as part of our program?
Learn about the greater infrastructure of healthcare and how the US healthcare system and how health insurance works.
Gain professional interpersonal telephone skills, appointment scheduling, medical records management and patient billing.
Attain a holistic understanding of what the body does, how it works together and how to spot common illnesses.
Computer literacy, word processing and writing business letters and memos are vital to success.
Train to measure patients' blood pressure, temperature, pulse, respiration and other vitals.
Acquire skills related to EKG, phlebotomy (blood drawing), urinalysis and more.
You'll learn how to put patients at ease and get them to trust you more readily.
Understand how the law and professional practices apply to your career.
You'll put it all in writing with resume and interview skills to help you land the job you want.