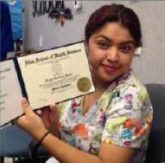 Noemi Bautista Ibanez
Medical Assistant
Graduate - July 2016
Resides in Phoenix, AZ
Just about one year ago, Alicia Campbell, Phoenix Campus Sr. Enrollment Advisor was driving back from lunch here in the local Phoenix area. She saw a young lady walking in a McDonald's uniform on the sidewalk. She immediately pulled a U-turn and went back and asked her from her car window if she wanted to change her life and stop working fast food. After a brief conversation she exchanged information with the now interested young lady, and set up a time to come in for an interview at the campus. Not soon after that, the student enrolled into the Allen School medical assistant program as a brand new student. Today, that same student walked back into our campus to pick up her MA certificate after a/ready being hired by her internship site at a pediatric endocrinology clinic nearby. Whether you work in online admissions or campus admissions, having the internal desire to truly help people is what really makes all the difference in the world. This is what referrals and personally developed leads are all about.
When was the last time we pulled a you turn in our car to talk to a perfect stranger, or talked to the stranger next to us on the bus or subway on your long commute to work? Opportunities to change a life are often all around us, we just need to make the effort to come out of our comfort zone and help. Thank you to Alicia Campbell for all that you do. Let's all take a page out of Alicia's playbook to try to have a story like this we can share too! Keep your eyes open when you are out and about and always have your business cards on you!
You never know who's life you may have the chance to change forever.