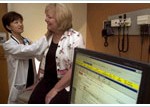 There is a lot of talk these days in healthcare about Electronic Health Records. Seems we are starting to move in that direction more and more. The American Recovery and Reinvestment Act (ARRA), was signed into law on February 17, 2009 by President Obama. According to the AHIMA, "Through the American Recovery and Reinvestment Act (ARRA), the development of Regional Extension Centers (regional centers) offers unique opportunities for HIM professionals to be at the forefront of electronic health record (EHR) implementations. HIM professionals provide critical and essential skills as providers and entities are going through the transition to a more electronic environment to become meaningful users of EHRs. AHIMA has developed a concept paper outlining the benefits and opportunities of engaging HIM in the process and aligning them with key stakeholders to achieve meaningful use and improved use of EHRs." "How HIM Can Help Given the task that regional centers are trying to accomplish, HIM professionals can provide support in a number of ways: A. EHR and personal health record (PHR) knowledge and experience • Implementation – HIM professionals have expertise and experience with EHR implementation lifecycle from workflow analysis and impact assessment to go-live support and post go-live support. • Data use expertise – HIM professionals are experts in the use of electronic data for coding; billing; release of information; privacy, security and confidentiality of health information; providing data for research, quality measurement, public reporting; clinical documentation improvement programs; and computer-assisted coding. HIM professionals are also committed to data integrity, particularly as it impacts patient care. • Record custodians – HIM professionals are trained to be and are considered to be the lawful "custodian of the record," regardless of the media. • Community education – AHIMA has an established community outreach program (
www.myphr.com
) designed to raise awareness and educate the public about the importance of PHRs, patients' rights regarding access to health information, and the benefits of EHRs." Source:
http://www.ahima.org/arra/
For more information about AHIMA and the Health Care Reform and Health IT Stimulus: ARRA and HITECH, please visit:
http://www.ahima.org/arra/
Tell me do you think an electronic health record is the right thing to do? What issues and barriers do you see with implementing an EHR? Let's talk about this.