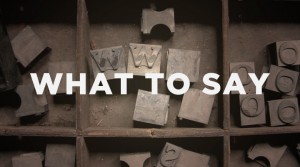 Typically, I encounter posts written at job seekers' sites talking about how best to answer certain common job interview questions.  Things like, "Where do you see yourself in five years" or "What do you consider your greatest strengths and weaknesses" are typical and have been discussed ad nauseum.
Today, however, I came across
a piece at Monster.com
that listed the following Top 5 Things to
Say
During your Job Interview.  This was a refreshing take on the threadbare discussion topic because it provides simple statements (and a couple of questions) you can inject into the conversation with your interviewer.  These five things all work to put you forward in the best possible light and provide you with the opportunity to segue into the kinds of discussions an interviewer's (often hackneyed) questions are designed to elicit.
"Let me tell you about a time that I solved that problem."
This statement, followed by a story about how you achieved in a past capacity, demonstrates that you're results-oriented, not just a sum of your list of capabilities.
"Can you clarify?
Asking for clarification demonstrates that you're thoughtful and careful and wish to have all the information you may need to answer a challenge
before
you get started.
"I read about that project on your website."
This statement clearly and proactively demonstrates that you're an inquisitive self-starter.  These lists always admonish readers to do some research on the hiring organization before going to the interview.  This simple sentence makes clear you did your due diligence.
"What made you decide to work here?"
When asked if you have any questions for the interviewer, it is always a best practice to have some thoughtful questions ready to ask.  Asking the interviewer what drove their decision to work for this company turns the tables.  However, it is a fair question and one that may yield some insight you wouldn't have come away with otherwise.
"I'd love the chance to join this team!"
There is no 'I' in the team says the old axiom.  Making this statement demonstrates that you bring a team-working ethic to the job and shows you're ready to jump in and work together with others.
I loved reading this list and I am confident these tips will come in handy at your next job interview.