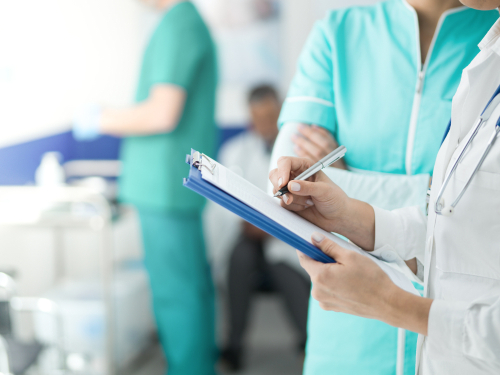 Hospitals are, by far, the most significant employers a great source of employment opportunity for certified medical (CMA) and nursing assistants (CNA), in the healthcare industry. Highly trained healthcare employees are in demand at hospitals around the country, especially in populated cities like New York, which is filled with some of the country's top hospitals with some of the best doctors. That makes these hospitals a fantastic place to launch your new career as a nursing assistant.
Less than eight years ago there were over 100,000 nursing assistant jobs in New York alone and 1.5 million nurse assistant jobs across the United States. According to the US Bureau of Labor Statistics, that number is expected to increase by at least 11 percent in the next eight years.
To put that into perspective, most occupations have an average growth of around seven percent, meaning nursing assistants will be an occupation in high demand for New York City hospitals in the coming years, thanks to the aging baby boomer generation.
This aging population needs compassionate, highly trained, and knowledgeable caregivers; precisely the type of people who gain their training at from the Allen School of Health Sciences.
Top New York City Hospitals for Nursing Assistants Starting Your Healthcare Career
Whether you are just starting your nursing assistant training at The Allen School, or are about to graduate and go for your CNA certification go on internship and graduate, it's a good idea to know what hospitals in the area would be an excellent place to start your career. We've compiled a brief list of the most well-known top hospitals in New York City.
Mount Sinai Hospital
Probably the most well-known New York hospital, Mount Sinai is a teaching hospital that is ranked on the Best Hospitals Honor Roll as number 18 and is committed to reducing the number of medical errors and accidents made by staff and doctors alike.
New York Presbyterian Hospital
Ranked by the Best Hospitals Honor Roll as number eight, New York Presbyterian is a general surgical and medical facility as well as a teaching hospital with several New York locations including Brooklyn. This makes it perfect for students just graduating the Allen School nursing assistant programs.
Jamaica Hospital Medical Center
Jamaica Hospital, located in Jamaica, New York, is a general surgical and medical facility that has been the recipient of the NRC Health Excellence Award for the most improved hospital.
Mount Sinai Beth Israel Medical Center
A teaching hospital and general medical facility, Beth Israel is well-known for its dedication to excellence and innovation. It is part of the Mount Sinai health system and is affiliated with the Icahn School of Medicine.
Find Nursing and Medical Assistant Jobs at Hospitals
If a hospital seems like a good fit for you and you'd like to take the first steps to start your career in one, contact us today. Classes are enrolling now at all campuses. Excited to start your career at one of these hospitals? Contact the Allen School today to get started on your new career.
Image: Stokkete / shutterstock