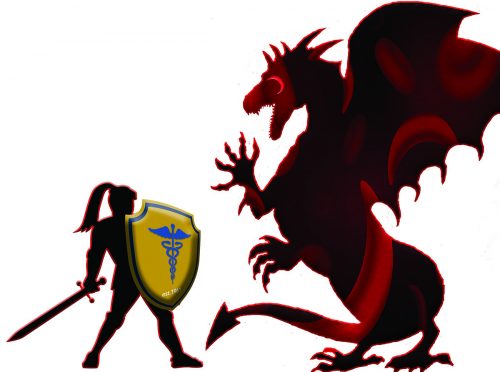 Sickle Cell Awareness
Every month the
Allen School of Health Sciences
is proud to support an important cause through education, awareness, and of course giving through fundraising and donations as part of our
Institution For HOPE
Initiative. This is a great opportunity for our students to not only become educated on challenges their patients may face as they head into their new careers, but also a chance to give and make a direct impact on lives of others. Every September we dedicate our time and efforts towards
Sickle Cell Anemia
. Sickle Cell Anemia is an inherited disease that causes chronic anemia (low red blood cell counts) as well as periodic episodes of pain. The red blood cells in people with Sickle Cell Anemia are faulty and tend to cluster together and lose their normal round shape. Instead they become elongated and take on a shape similar to a crescent moon or sickle. When this occurs they aren't able to pass through the tiny blood vessels located throughout the body and they become trapped, which causes both the anemia and pain that are the trademarks of this disease. These blood cells also have a much shorter life cycle than a normal red blood cell and tend to die in 10 to 20 days instead of the normal 120 days a healthy red blood cell lives. So, what are some ways you can help raise awareness for Sickle Cell Anemia and make a difference in people's lives?
Donate Blood – blood transfusions are a vital part of current treatment of Sickle Cell Anemia. The Phoenix Campus will be hosting a Blood Drive on Tuesday October 4th.
Learn More – there are great resources on the web to help you get educated and learn how this disease affects those who have it as well as those around them.
Volunteer – There are many camps, support groups, youth clubs, and other opportunities for you to get involved.
Attend Events – Sickle Cell Anemia organizations across the country host walks, fundraisers, and other benefits that allow you to have a great time and make a difference in fighting this disease
Donate – Every penny brings researchers one step closer to fighting this disease. Many states have their own local organizations that you can donate to, or you can visit the Sickle Cell Disease Association of America or the American Sickle Cell Anemia Association for more information.
The Allen School prides itself on going beyond the classroom and bringing education to life for all of our students and staff. We are proud of the culture of giving and support we have developed in our 55 years as an institution. If you are ready to be part of something more call us today and ask about our healthcare training programs. Call 877-591-8753 or visit our website at www.allenschool.edu.