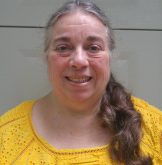 Susan Leonard
Medical Insurance Billing and Coding
Graduate - March 2017
Resides in Maine
I am delighted to share my wonderful experiences I had while going to school at Allen School of Health Sciences.
 Allen School has impacted me personally because now I have a pleasant life ahead of me to look forward to living. I am divorced and the only one taking care of me. I need gainful employment and solid income to live a happy life. My previous employment was with Dunkin' Donuts for four years. I worked full time and so hard during my time there that I lost a great deal of use of my legs by stressing them out. The damage is probably permanent and only knee replacement will remedy the situation. If I didn't have my education at Allen School, I don't know where I would work. Office clerical work is so hard to find and doesn't pay that well. 
Professionally, I feel much better about myself since I will be working in a professional office with a professional atmosphere. When I talk to some other people, professionally behaving people are much more pleasant to work with because there is a code of ethics that is required to work by. I have a strong and long future to last me into the final stages of my work life which should be a couple of decades. I see possible advancement and even remote work which I am eventually planning to do. I am very confident about my career that I have studied so hard for because of the upbeat attitude of the instructors and my classmates. I needed the course in career development and everyone's involvement in that class to provide a confident attitude in interviews and the necessary follow-up that will most likely get a position that I really want. I really feel like a different person than I was a couple of years ago.   
My experience in the classroom was something I looked forward to each night when I went to class online. I was always in the comfort of my home and didn't have the struggle of commuting and going up stairs to the classrooms and holding so many books.  I was always so amazed that I was in my home in Gorham, Maine and everyone else was in all parts of the country in their homes. Yet, we communicated so well and easily to each other as if we were in the same space. I loved it. I loved the constant communication with my instructors and my classmates regarding the subject of the class we were in that evening. Another important feature of the school was to be positive in responding to each other. I noticed it was strictly observed. We were encouraged to join facebook study groups. I found my classmates very responsive to one another and very encouraging to each other.  
There is a whole new life on the other side of the Certificate Program and the Associate's Program. I feel the incoming students should get as much help as possible to set up an effective study program and persevere throughout the whole program with that study program. It is so important to get the most out of what is being offered. Maybe other activities will have to be put off in order to put enough time into studying. The classes are very invigorating; therefore, I wouldn't fear boredom at all. But clarity of mind is necessary during the classes because there is a lot of information being discussed and it is presented steadily. I mean, if you are not alert, you will miss a lot. Questions are encouraged and answered in full and there is plenty of time to make sure you understand what is being taught. To be successful at Allen School, I would stress give yourself enough time to study, read the course material, and get your homework in on time. Make a valiant effort to attend all classes; it is another portal of study material.  It is all important! 
I feel like a have a decent life ahead of me. I am not worried about bills being paid. I didn't know how important it was to be gainfully employed before I got divorced. I had everything given to me. I am excited to be around great, caring people. I love the fact that I can be in a position to help people myself. I feel I have more to offer in conversations than the types of coffee and what donut is on special this month. I feel proud of myself that I can contain a lot of information in my mind, be responsible to all the ethical rules and HIPAA regulations with the people I will be working with, and that I can work in an intricate field of coding. I feel responsible and educated. It really is a good feeling.
I loved all my time spent at Allen School of Health Sciences.