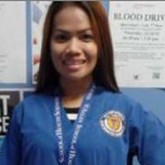 Eleonor Crosby
Medical Assistant
Graduate - March 2016
Resides in New York
Before I enrolled at Allen School of Health Sciences. I was working as a HHA and then I realized that I have more talent to offer for people. I always had a passion towards elderly or sick people. Financially it was hard at the time but it didn't stop me from calling the school. I spoke with an enrollment advisor and he gave me more hope to pursue my career. He saw passion in me. I always wanted to become an RN one day, hopefully.
Since the day 1 of my studies here at Allen School I grew a bond towards my instructors and staff-they are really good people. My teachers from module one all the way to module five have been awesome. I learned a lot from them and they open their hearts in any questions you may ask. Other thing I love about Allen School is we always participate or support health groups such as: Breast Cancer Awareness which I was part of. It, Diabetes, LLS and many more.
I also love Angel. I look up to her like my mentor! She always gives me a good advice. I am also thankful to my teachers for recognizing me as a best student for so many times. and that keeps me going. Lastly, I am glad I enrolled at Allen school! I love all my teachers, they're all my favorites and I really had an awesome time and experience here. I met new people here and some of them became my close friends. I am grateful I chose Allen School of Health Sciences to further my education.