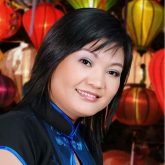 Thuy Vu Tran
Medical Insurance Billing and Coding
Graduate - March 2016
Resides in Bethleham, PA
I am really happy with Allen School. I am glad that I made the right decision to study in this program. At first, I was scared because I didn't go to school for years. Also, this program was new for me compared with my current career. But I was wrong… I got help from my professors and friends. It made my studies easier than I thought. All of the professors and staff from Allen school would help us (students) anytime we needed. I feel very comfortable asking them questions and I get the answers right back. Allen school has really impacted me both personally and professionally.
I could not complain about my professors and classmates. We are a team, very strong team. We helped each other when someone needed a hand; even though, we were studying online. We don't know each other, but we seemed to know and understand each other very well. I miss my team.
I very strongly recommend this program, because it is a good career in medical office field. If you want to be successful in this program then you have to read ahead, go to classes every day, and finish your homework on time because it effects to your grade when you submit the assignments on time. I do not know how to explain to you how I feel, but I know I am really happy. I cannot wait to start my new career. I hope I can get a job as soon as possible, so I can apply my acknowledge to my career.
Thanks, Allen School! I really like the school. That is the reason I keep continuing my school to achieve my AS In Medical Billing and Coding program from Allen School.