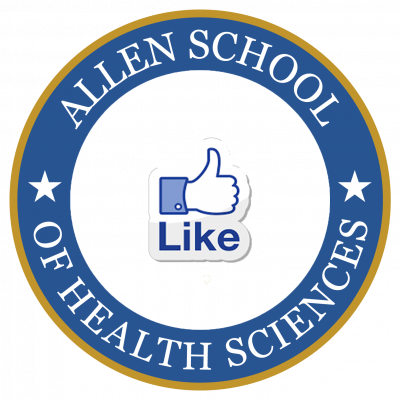 Social Media!! – We are everywhere. We have Facebook, Instagram, Youtube, Google+, Linked-In, Pinterest, and more. If you want to know what we are up to and support your fellow students be sure to like us, follow us, tweet us, snap us, and show off your own moments of triumph during class, intern, and beyond. You can even show off your Allen School pride with our great Facebook Frames.
Testify – You've seen the posters on the wall and on the website. Want to share your own story? Send us your testimonial and picture to theallenschool@gmail.com and we will share it with everyone. You never know who else you may inspire to change their life through education just like you did.
Hash It Out – #AllenSchool, #AllenSchoolStrong, #GreatestMedicalAssistantEver. The sky is the limit when it comes to tagging. We want to see your best hashtag so we can share your Allen School success with everyone.
Buy the DVD?? – Just kidding, there is no DVD. We would love to see your success though and invite all of our students to take part in our "I Got Hired" video series. You can either visit the student services department or make your own video and send it to us at theallenschool@gmail.com it's very easy. Just hit record and tell us who you are, where you got hired, and how much you love the Allen School.
Tell Us All About It – No one is better at telling potential students what it's like to be part of the Allen School family than YOU are! Fire up your video recorder and give us a short blurb on what life is like at the Allen School and we'll feature you in our "Day In The Life" series on YouTube.
Our students mean everything to us and we want to share your success at every step of the way. So please check us out on Social Media, share your greatest moments, and become the ultimate Allen School fan!!