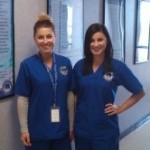 AnaMaria and Denisa
Medical Assistant
Graduate - October 2014
Resides in Arizona
AnaMaria

and

Denisa

are sisters in the Medical Assistant Program in Phoenix, AZ.
What is the best part of your education so far?
How open and willing the instructors are with helping us understand and learn, we didn't see that at other schools. Also the class itself, we're like a family. We help and support each other and make sure everyone succeeds.
Why did you choose to become a Medical Assistant?
AnaMaria
– I was already established in the medical field at a laser treatment center and wanted to continue in the field. I like the flexibility that being a Medical Assistant will give me as I choose where I want to work in my new career.
Denisa
– I was in massage school but have always been fascinated by human anatomy and medicine. Transitioning into being a Medical Assistant offers my greater opportunity and I get to study the things that interest me.
Why did you choose the Allen School of Health Sciences?
The admissions representatives where extremely helpful and friendly. They gave us lots of great information and ex-plained how the school will give us more preparation and education than other schools. We like that it's a friendly and welcoming school, not at all corporate. The classes are small and the instructors are professionals.
What would you tell others who are considering a career as a Medical Assistant?
It's great because you can choose your field of work, there's no limits to the type of patients and people you can end up working with. The field offers great benefits and its growing all the time. You're never going to be a field that's disappearing.
Where do you see yourself working after school is finished?
AnaMaria
– In a dermatology office or plastic surgeons practice, I want to use the background I gained working at the Laser treatment center and build my career.
Denisa–
In a cardiology or pulmonary office. The human heart fascinates me, that's where I can see myself working.