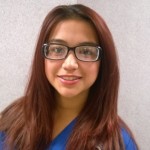 Jennifer Josellin Salazar Avila
Medical Assistant
Graduate - October 2014
Resides in Arizona
Hi! My name is Jennifer Salazar and I am 18 years old. I am very happy I came to the Allen School. The Allen school has helped me get my career started. I hesitated so much to come to school because I had a 2 week old baby girl, when I first started. I had just finished high school in December and I just wanted to stay at home with my baby.
Naylea
Acosta told me about Allen school and told me to come and I did. I just came to see how it was like and well at the end of the day,
Annalisa
said "Come on sign up you won't regret it", and to this day I do not regret it I have never looked back and said I shouldn't have come. This was a literally short 6 months course. I met so many beautiful girls here, all so happy and full of joy. If I could I would go back and change NOTHING, oh wait expect making perfect attendance.