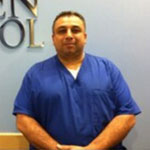 Julio Lozada
Medical Assistant
Julio came to the Allen School in search of a new direction in his career and life. Taking that first step toward redefining his future wasn't easy, but now that he's on track to be an Allen School medical assisting graduate, his future is bright and he has a renewed outlook on life. Here is Julio's story:
While contemplating the idea of continuing my education, I drove by the Allen School one day and decided to make a pit stop. At first, I was hesitant to walk inside. I hadn't been in school in almost a decade. As I opened the door, my mind was quickly put at ease because I was greeted so kindly be everyone I met.
After completing my application, there was a small issue with affording my tuition. With the help of Mr. Cruz in the Admissions Office, the Allen school came up with a personalized Financial Aid plan to help me.
When I attended my first class, I felt a little out of place because I was older than most other students. I soon felt comfortable as my classmates and instructors were so wonderful to me. I was now officially on my way toward becoming a healthcare professional.
The teachers at the Allen School went above and beyond for us students, helping us to understand what it takes to succeed in the competitive medical profession. The way they prepared us with such professionalism, it was inspiring to us all.
Now that I'm approaching graduation, I feel as if I have a new family. Throughout these months, fellow students and myself have stayed after school for group studies, working as a team to help each other. The feeling of camaraderie as fantastic and helps keeps us all on track.
I am so glad and grateful that I made the decision to further my medical assisting education at the Allen School. Thanks to an increase in my self-esteem, I also feel like I'm a better person than I was a few short months ago. The difference at the Allen School is that beautiful people are always there to back you up, motivate you, and offer love and support.