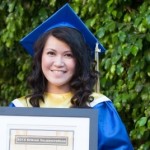 Kharissa Garcillano
Medical Assistant
Graduate - May 2014
Resides in Arizona
What could have happened to me – a DREAMER or someone who belongs to what lawyers say as
"DACA"
(Deferred Action for Childhood Arrivals) – if Allen School refused to admit me as a student, I would remain to what I would refer to as:
NPA
or Non-Performing Asset. And my dreams would remain just a pigment of my imagination. To the faculty members of Allen School: Dr. Hunt, Dr.
Cao
, Dr. Jackson, Mrs.
Sesser
and Ms. Vivian and the members of the school administration: to Ms. Jennifer thank you so much. You all did an excellent job in providing us students the training and education that we need as well as the values that we would bring as we perform our respective tasks in our chosen professions. To my parents, members of my family and my friends and classmates… who provided me the much-needed encouragement and inspiration: thank you very much. To my Uncle Leo and Aunty Melanie, thank you for being always there for me. Again, to all of those, who in one way or another have helped me and held my hand in my first step to my journey to the thousand miles… Thank you very much! CONGRATULATIONS EVERYONE! WE DID IT!