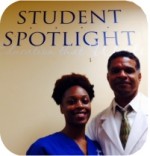 Nakira Golds
Medical Assistant
Graduate - September 2014
Resides in New York
On June 19, 2014, while on a field trip to the Brooklyn Criminal Court with Mr. Armand's Medical Law and Ethics class,
Nakira
Golds
was called to duty when a person at the courthouse passed out and was going to fall to the ground which increased their risk of sustaining a head injury. While waiting to go through the metal detectors,
Nakira
noticed a 65-year-old gentleman in front of her looking off balance and stumbling. She asked him if he was all right and he responded, "No." She offered him help to sit down, and he shook his head no as he was falling. 
Nakira
acted quickly using what she had learned in her First Aid and Emergencies class and extended her arms out in front of her under his arms and used her leg to support his weight. The gentleman was much heavier and taller than
Nakira
but she employed the correct emergency techniques.  She gently lowered him to the ground. She spoke to him and asked him questions, "Are you OK? Did you eat?" The gentlemen did not have time to answer before he passed out. A police officer came over to assess the situation but relied on her to take charge of the situation.  He noticed that she was in her scrubs and was a healthcare provider and deferred to her medical judgment in this situation. 
Nakira
proceeded to dial 911 from her cell phone. The gentlemen had a wet washcloth and a water bottle with him, so
Nakira
took the washcloth and placed it on his forehead. He gained consciousness, and
Nakira
began to ask him questions directed by 911. Apparently, the gentlemen did not have anything to eat or drink that day. He was dehydrated and probably hypoglycemic. He had just started drinking from the water bottle he had with him, but it was too late.
Nakira
wanted to wait with him until the ambulance came, but the police officer assured her that he would stay with the gentlemen. After seeing for herself that the gentlemen appeared fine, she went to join her class. Outstanding Job
Nakira
, keep up the good work!