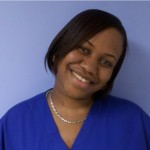 Nikki Cole
Medical Assistant
Resides in New York
We are recognizing Nikki for her positive attitude and passionate commitment toward becoming a
Medical Assistant
professional. Here is what she has to say about her personal experience at the Allen School:
Before attending The Allen School healthcare training school, I worked job after job, which is easy for an individual without a career goal. When I was finally ready to really do something with my life, the Allen School greeted me with open arms.
By obtaining knowledge about the healthcare field from great instructors, constant hands-on work, along with the assistance of the Career Services department, I believe that coming to the Allen School was one of the best decisions I've ever made.
Now that I will soon be on my way to internship, I am determined to keep pushing, even after I've completed all of my courses. That's because I am so grateful for the opportunity the Allen School has given me, so that I can provide my daughter with the life that she respectfully deserves. Thank you Allen School.
"There is the saying, "If you want to succeed, as bad as you want to breathe, then you will be successful." Believe me, if you really want to become a medical professional, you can do it at the Allen School!