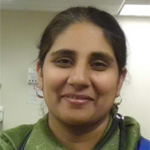 Rukhsana Hussain
Medical Assistant
Graduate - February 2012
Resides in New York
Rukhsana
Hussain
came to the Allen School to achieve her dream of becoming a Medical Assistant. She overcame adversity and
jumpstarted
her medical career thanks to the support of her newfound family at the Allen School. Here is her story: After enrolling at the Allen School, due to unforeseen circumstances,
Rukhsana
was unable to attend her introductory courses. Once her situation improved, she contacted the Admissions Office where she spoke with both her enrollment advisor, Eddy
Whitten
, and James Cruz, Director of Admissions. She was told to follow the re-entry guidelines, which required her to write an essay detailing why the Allen School should make an exception in allowing her to immediately return to her Medical Assisting program. Her essay was submitted and approved, allowing her to return to her classes. She was officially back on track to becoming a medical professional. Once she returned,
Rukhsana
excelled as a medical student. On top of fulfilling her academic obligations, she also participated in two all-star events where she volunteered at a Cobble Hill High School and attended the Women to Women Health Fair in Brooklyn, New York. At both locations she assisted with triage, blood pressure screening and obtaining patient medical history. She did such a great job at these events that the Director of Community Affairs & Volunteer Services personally gave
Rukhsana
her business card, requesting that she be assigned an Internship at SUNY Downstate Medical Center University Hospital of Brooklyn at the Long Island College Hospital. She is set to begin that internship in the spring of 2012 in the Pediatrics division of SUNY. Thanks to her hard work, dedication and support of the team at the Allen School,
Rukhsana
is well on her way to becoming that Medical Assisting professional that she has always dreamed of.