Single parent? Start a new career in under a year!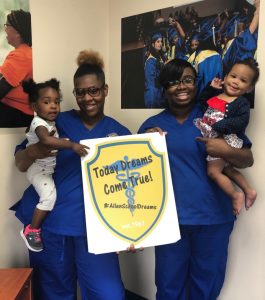 Tired of working long, stressful shifts at retail establishments or fast food restaurants? Enroll in medical assistant classes at a reputable school so that you can pursue a stable career helping others. At the Allen School of Health Sciences our accelerated medical assistant programs takes less than one year, and you can begin applying at healthcare facilities as soon as you obtain certification. Here are reasons why many single moms benefit from becoming a medical assistant.
 Daycare-Friendly Hours
It can be difficult to find a babysitter if you don't work a traditional 8-to-5 schedule, especially if your employer requires open availability 7 days a week. You may even get stuck working on holidays and special occasions. A schedule that varies drastically also makes it difficult to establish a bedtime routine or get older kids to school.
You can resolve these issues by becoming a medical assistant. Some hospitals and healthcare offices require medical assistants to work evenings or weekends, but many medical assistants have the option to only work on weekdays.
 Stable Career Outlook
You may have heard friends with degrees or certifications in other fields complain that they can't find a job. That's generally not an issue for medical assistants, as doctors, hospitals, and retirement homes often hire this type of healthcare worker. Medical assisting is a stable, in-demand career with a job outlook that's projected to increase approximately 29% by 2026. (See Bureau of Labor and Statistics)
Accelerated Program Completion
It's difficult to balance work, school, and parenting when you're a single mom. Luckily, you can finish medical assistant classes quickly and start your new career.
The Allen School of Health Sciences offer an accelerated medical assistant program that last less than one year. 
 Knowledge of Common Medical Conditions
Kids often get injuries and ailments that require medical care, but sometimes children undergo unnecessary trips to a healthcare provider. After you become a medical assistant, you'll have valuable knowledge that helps you identify which minor injuries and illnesses can be treated at home. You'll also learn the correct way to quickly apply gauze, ointment, and bandages.
You deserve a professional position that makes it easy for you to provide for your family. If you're ready to pursue a successful career in the healthcare field and interested in learning more about developing the skills and attributes of a medical assistant. Contact the Allen School today! We are enrolling now for our fall classes and cannot wait for you to become part of the Allen School family. Visit www.allenschool.edu to learn more.
-Allen School