Why Medical Assistants love their jobs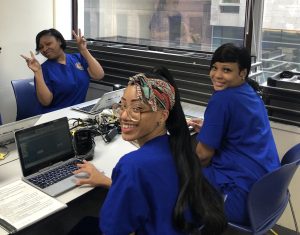 Most people who want to work in the healthcare field likely aspire to become doctors or nurses. However, Medical Assisting is one of the fastest-growing occupations in the United States. The Medical Assistant career path offers many of the same benefits as other healthcare professions, in addition to perks of its own. For those looking to enter the healthcare field, medical assisting might be a great fit. To showcase some of the reasons Medical Assistants love their jobs, a list is featured below:
Bountiful Job Outlook
Medical Assistant employment is projected to increase to 23% by the year 2028. The Bureau of Labor and Statistics attributes the projection to the increased demand for medical support staff in physicians' offices and clinics to accommodate the number of aging baby boomers. https://www.bls.gov/ooh/healthcare/medical-assistants.htm 
Medical Assistants are essential cogs that allow offices and clinics to operate smoothly. They facilitate the flow of patients throughout the facility and handle a variety of other clinical and administrative tasks. Doctors in all specializations need Medical Assistants to help run their offices.
Starting Work Sooner
Medical Assistants can begin working in the healthcare field sooner than students who attend nursing programs at a four-year university. Many schools offer programs that can be completed in a matter of months. The Allen School of Health Sciences offers an accelerated medical assistant program that can be completed in less than a year.
Limitless Career Paths
Medical Assistants graduate with the knowledge and experience needed to excel in the healthcare industry. They are trained in both clinical and administrative tasks that are critical to running an office or clinic.
With a vast array of skills at their disposal, Medical Assistants can explore different areas of medicine and discover what they are passionate about. Medical Assistants have the opportunity to specialize in a certain type of medicine, teach students who also want to be an MA, or even decide to go back to school to further their education.
Diverse On-the-Job Experiences
Medical Assistants are capable of performing many different tasks needed to keep any clinic or office running smooth, one of which includes treating patients. Their versatility also ensures they will not be bored on the job because there is always something they can do.
Additionally, the patients who come in to be treated and what they are seeking to be treated for, varies daily. Every day on the job is different than the one before.
Helping People
Medical Assistants help physicians run their offices, but they also provide patients with compassion and understanding while doing so. Like their fellow healthcare professionals, Medical Assistants take satisfaction in knowing they are helping patients and changing their lives for the better.
A quality education is a crucial start to a Medical Assistant's career.  If you're ready to pursue a successful career in the healthcare field and are interested in learning more about developing the skills and attributes of a Medical Assistant, contact the Allen School today! We are enrolling now for classes and cannot wait for you to become part of the Allen School family! Visit www.allenschool.edu to learn more.