Medical Assisting as a Career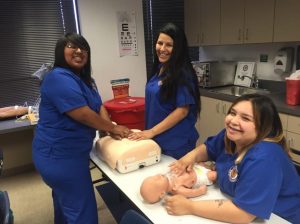 Have you considered medical assisting as a career? If so, it's good to get your facts straight. Here at the Allen School of Health Sciences, our training program provides a foundation of knowledge and skill that can help position you for a satisfying career as a healthcare professional.
The option to choose a specialty. Medical assisting offers a lot of options. In this job you can work with many different kinds of doctors and medical practices. Are you interested in pediatrics? Podiatry? Ophthalmology? Depending on what practices are in your area, there may be various job opportunities for you to specialize.
A leadership role. As a medical assistant, you have a lot of control over what happens in a doctor's office—from the time the patient leaves the waiting room until they see the doctor. You are the key connection between the receptionist in the front office and the nurses and doctors, and play a vital role in communicating and transferring patients efficiently. If you work in a small office, you may even handle many of the front office duties as well, including scheduling patient appointments.
You can make changes during your career. Maybe you will have an externship in one kind of healthcare environment, but then would like to choose something different later on. You can choose an office that is larger or smaller, or that focuses on a different specialty. In the future you may decide to pursue work as a nurse, or even a physician assistant. This training can open doors to a range of choices down the road.
Always something new to learn. Even if you stay in one position for a long period of time, there are always new things to learn in the changing world of healthcare! So, you won't get bored if you're focused on learning and adapting to new information, technology, and other innovations that will be coming your way all the time.
You can find meaning at work. Helping people is a big part of this profession, and if you have a compassionate, nurturing nature, then you are likely to find satisfaction in work that can help to better people's lives.
Interested in learning more about developing the skills and attributes of a medical assistant? Are you ready to start a Medical Assistant Program? Contact the Allen School today! We are enrolling now for our summer classes and cannot wait for you to become part of the Allen School family. Visit www.allenschool.edu to learn more.
-Allen School