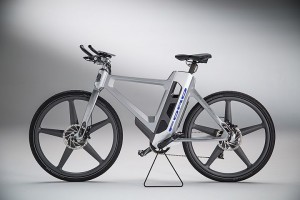 We frequently post stories about neat technologies and other interesting i
tems that underscore the benefits of studying online medical billing classes with the Allen School.
From stories about the latest computer system upgrades to avoiding commuting during miserable winter weather, many of our posts underscore the good reasons to be on online medical billing program student. But not today!  Today, we're gonna talk about one reason it is awesome to
be a ground campus student of medical assistant courses
or certified nursing assistant training.  It gives me great pleasure to share with you ground school students,
the new Ford MoDe electric bicycle
.  According to auto enthusiast site BoldRide.com, "This beautiful piece of engineering and design packs an electric motor and battery into its frame and can fold down to be stored and charged in any new Ford vehicle. However, it also features unique front and rear suspension assemblies which can be configured for road, mountain or city biking – greatly increasing its versatility and potentially cutting a cyclist's fleet from two or three bikes down to just one." Designed to be a perfect city commute vehicle, the MoDe, from automaker Ford, offers a unique and effortless way to make the commute to the ground campus.  Even if you live in another borough or even across the river in New Jersey, you can drive your Ford to the station, carry the foldable e-Bike onto the train and then ride the rest of the way in style and power-assisted comfort.  This nifty toy will turn the tables a bit, making online students envious of their commuting cohorts taking classes at Allen Schools physical campuses. Note: also nice to ride around the beautiful desertscapes of
the new Phoenix, Arizona Allen School campus.