As Summer ends, why not START your new career?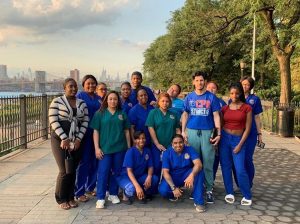 It has been an excessively hot summer for us all, and we hope you have all been using this time to sit indoors in the comfort of your air conditioners and reflect on your career, family, and life in general.
Summer is a time where career seekers tend to re-evaluate their careers and take action in beginning the fall and holiday season with a great job. If that is your goal, now is the time to get moving.
We keep hearing that the economy is bad and that there are no jobs out there. Now is not the time to look passively. You have to turn your search up a notch and really go after the jobs you want. Ask yourself the following:
Am I ready to go to an interview at a moment's?
You should always have your interview outfit ready to go, just in case you get that last minute call for an interview. Your interview attire should be clean, ironed, under-stated, professional, and fit you well. Try to stick to conservative colors, and keep jewelry and accessories at a minimum. You do not want your clothes to take all the attention from you.
Do I have a compelling and targeted resume that truly markets my knowledge, skills, and abilities?
It is important to note that you will not be successful with using one generic resume for every job you apply for. Your resume has to be tailored to each position you apply for in order for it to get noticed by recruiters and hiring managers.
Do I need to have a cover letter?
A well-written cover letter should always accompany your resume. Your cover letter is an introduction to your resume, and it sends a clear message that you care and really want the job.
Are my interview skills strong enough to take me to the next level?
It is imperative that you go to an interview ready for whatever the interviewer presents. This means that you must do your research on the company in advance. Also, you must be ready to clearly and articulately sell yourself. Don't get caught unprepared. Start pulling your career branding TODAY. Apply to as many jobs that fit your criteria, as there is power in numbers. The more positions you apply for, the higher the probability for you to get interviews. Do you need some assistance with your interview skills and career advice in the medical field? We can help! The Allen School career services department can assist you on what questions to expect and ask in a medical assistant interview. The effort you put in before going on an interview will increase your chances of landing your dream job. Contact the Allen School today!
We are enrolling now for our Fall classes and cannot wait for you to become part of the Allen School family. Visit www.allenschool.edu to learn more.
-Allen School