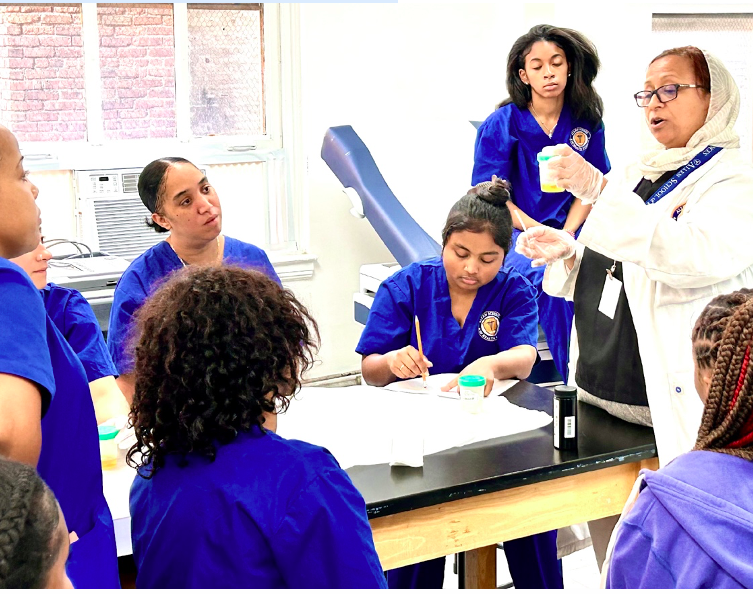 The Allen School of Health Sciences Medical Assistant program provides focused and specialized training specifically tailored to the field of medical assisting.  Our program equips students with the necessary skills and knowledge required to excel in their role as a Medical Assistant. Some benefits of transferring from a traditional school include:
Accelerated Program:  The Medical Assisting program at the Allen School of Health Sciences is designed so students can graduate in less than a year.  This allows students to enter the workforce sooner compared to pursuing a traditional four-year degree.
Hands-On Experience:  The program emphasizes hands-on training, providing students with practical experience in a variety of medical procedures and tasks. This hands-on learning approach can help students develop the necessary skills and confidence to excel in their future medical assisting career.
Industry-Focused Curriculum:  The curriculum at the Allen School of Health Sciences is designed with input from industry professionals, ensuring that students are trained in the most current and relevant practices and technologies used in the medical field.
Career Support:  The Allen School of Health Sciences offers career services and support to students, including assistance with job placement and resume building.  This can be particularly helpful for students transitioning from a traditional college setting to a career-focused program.
Networking Opportunities:  The Allen School of Health Sciences provides opportunities for students to connect with professionals in the healthcare industry.  This can be beneficial for building a professional network and accessing potential job opportunities in the future.
Flexibility:  The Allen School of Health Sciences offers a blended program; combining online and hands-on learning in a clinical setting. Classes are conducted in the day or evening to accommodate the needs of students who may be working or have other commitments. This flexibility can make it easier for traditional college students to balance their education with other responsibilities.
It's important for individuals considering a transfer to the Allen School of Health Sciences Medical Assistant program to thoroughly research and assess their career goals and the specific requirements of the program to ensure it aligns with their aspirations in the medical field. If you are a traditional college student looking to transfer into a medical program, the Allen School of Health Sciences might be the right place for you. To learn more about The Allen School of Health Sciences medical assistant program, contact us today! Enrolling now for classes starting soon. www.allenschool.edu