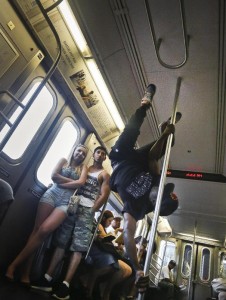 Here's one criteria you may use to determine whether you're more suited to studying
medical billing classes online
with the Allen School, or taking
medical assisting training
on one of their NYC area campuses. Two words for you: Subway & Acrobats!
If you live in the NY Metro area and you ride the subway, you're no doubt acquainted with the amateur acrobats who sometimes come through the cars making impromptu performances of physical prowess, using the handrails and poles as gymnastic equipment.  Recently,
NYPD has begun enforcing the rules prohibiting these performers
from twirling, flying, and catapulting themselves around the cars, apparently endangering other riders.  This prohibition on acrobatics though, will not stem the flow of other "street talent" using the subway platforms as their stage.  From magicians to musicians, poets to rappers, and every other kind of artist, you're still bound to be treated to a show on steel wheels while you're bound for work or school.
So, if you applaud the crackdown on subway acrobatics and find most train-based public performance an unbearable annoyance, perhaps you'd prefer to study medical billing classes online with the
Allen School
and avoid the daily shows in the tube.  If you think the acrobats and all the other subway performers are an interesting part of the social fabric, then you may prefer to study medical assisting training on Allen School campuses in the NYC area, taking the "E" train to school (that's "E" for Entertainment).