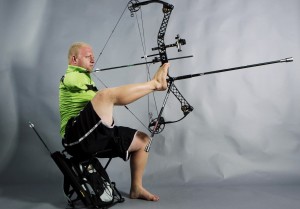 Starting a new course of study in pursuit of a new career can be a little scary.  In fact, it can be downright daunting.  If you're coming to the Allen School to study medical billing and coding to make a change in your career and your life, you may feel at times like the challenges of study, and then the job search after graduation are beyond your abilities.  Well, before you get too wrapped up in it, let me share with you something I am sure will inspire you to continue forward towards your goals.  Over at Wired.com, there is a truly inspirational slide show of images from this year's Paralympic Games.  If you think learning medical billing and coding is a challenge; if you feel like finding a job in a tough employment market is demoralizing; try shooting archery with no arms.  Try running a sprint with no legs!  Simply seeing these brave athletes achieving at the highest levels is enough to make our problems seem trite by comparison. 
Have a look at the images here
, and I am sure you'll be re-energized for your study of medical billing and coding after seeing them.