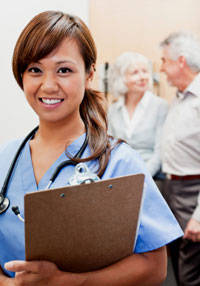 I never seem to get tired of reporting on the following kind of story.  Moreover, I am guessing as people either studying (or thinking about studying) medical billing and coding or medical office assistant training, you're probably not getting tired of reading them.
The folks over at Yahoo! Education have compiled a list of six high paying jobs on the rise.  These are growing career fields that exhibit an average annual salary of $75,000 or more.  On the list are some careers you would expect on such a list – software developer, civil engineer.  But making the list in the number 6 spot is, "Medical and Health Services Manager".  The Department of Labor projects employment of medical and health services managers to grow by 22 percent from 2010 to 2020, adding 68,000 new jobs along the way.
Now, although these positions require professionals with solid background in medical billing and other medical office administration capabilities, they're also positions for which a bachelor's or even a master's degree is commonly required.  However, the article does mention that also of great import to landing such a career is the real-life, on-the-job experience that you'll surely earn by beginning your career as a graduate of medical billing and coding or medical office assistant with the Allen School.  If you excel in the job world after graduation, you may be of a mind to consider furthering your education along these lines to go for a management position.