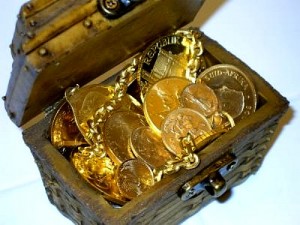 Today's news contained
a really nifty story
of a treasure hunting Florida family who, after many years of fruitless pursuit, finally found nearly $300,000 worth of gold coins and chains, diving in a shipwreck off the coast near their home.  Imagine the thrill of finally uncovering this prize after many years of frustrating efforts yielding nothing. You could follow this family's example and dedicate decades to the pursuit of sunken treasure and never find a single doubloon.  Or, you might opt for a more dependable, proven means for improving your fortune and enroll in
medical billing and coding school.
  Now, the Allen School cannot guarantee anyone a $300,000 payday for a single day's work.  But when you figure in the 20 years this family has searched for treasure, this payday works out to about $15,000 per year – not exactly a great salary.  On the other hand, becoming a
medical billing specialist
will earn a salary significantly higher than $15k/year and has enormous potential for growth. While it may not be as glamorous as "treasure hunter",
medical billing and coding training
provides a solid, stable and profitable career you can treasure for a lifetime.