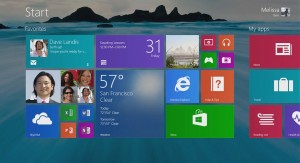 As we reported a few weeks ago, Windows XP operating system is about to fade out of existence.  With so many computers still running Microsoft's most popular OS ever, this means
many of the folks who studying medical billing and coding online using Windows XP computers have recently upgraded to a new system
(or will be soon).  That can be scary.  Especially since, since they've still been using Window XP, that means they missed the incremental changes spread over the releases Microsoft issued between XP and the present (which includes Windows Vista, Windows 7, Windows 8 and most recently, 8.1). But
fear not students of medical billing and coding school
!  The new Windows 8.1 is actually pretty easy to use- some might even say 'fun' – even if you're an XP diehard. 
Microsoft built Windows 8 to act much more like a tablet
, phablet or smartphone.  If you have an iPhone or an Android phone, you'll intuitively understand the "Tiles" which are similar to the apps on your tablet.  What's even more comforting is that the newest release, Windows 8.1 was issued specifically to restore some of the traditional Windows features that users complained were stripped out of Windows 8.  Things like a START button and right clicking of things have been restored in 8.1.  Overall, this blogger has found it to be the best of both worlds, tablet computing and classic Microsoft tools. Bottom line, like anything new and different, it will take a little adjustment time, but if you're being forced to upgrade by XP's final log off, you'll have even more fun studying online medical billing classes with 8.1!