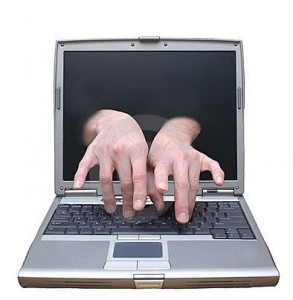 Yes, we all know taking medical billing classes online is a great way to insert career training into an already busy lifestyle.  Even if you're working a job (that you're desperately trying to leave in favor of a rewarding career by earning a medical billing certification) you can easily study in your downtime, from the comfort of your own home.  Yet, sometimes, you find yourself away from your own home and your computer.
Let's say you're visiting family out of town, or traveling for any reason.  Did you know you can access your home computer using virtual desktop software?  So even though you may be able to access your classwork from Aunt Betty's computer, you still need access to your files and other course material which may be stored in your computer's hard drive at home.  There are numerous "desktop sharing" programs that you can use to gain access to your files from anywhere and without having to put them in a cloud based storage like Dropbox or some such.
The brilliant folks over at Lifehacker.com have done the homework for you (no, not the medical billing online homework) and reviewed the top 5 remote desktop sharing programs.  Here's a link to the article the produced sharing their findings.  This blogger has used Team Viewer as well as Microsoft Remote Desktop (2 of the 5 listed) and has found them both to be easy and extraordinarily useful.  Have a look at the article and if you've got a trip planned, know that you'll be able to keep connected to your studies and anything else you may need to access while away!