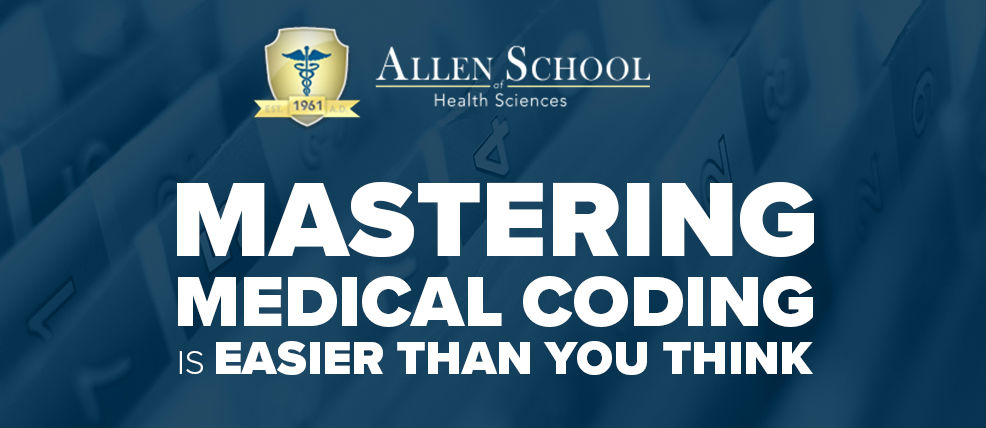 Updated August 17, 2021
When people hear the term "coding" they often think of complex mathematics, computer coding, genetic coding, or a number of other extremely challenging subjects. For this reason, many people mistakenly assume that medical coding must also be an incredibly difficult topic and career. In reality, it's far more attainable than most people realize. If you're interested in pursuing a career in medical coding and/or billing but feel intimidated for any reason whatsoever, take this moment to learn more about the field and why it may not be as difficult as you think.

First Thing's First: What Is Medical Coding?
Medical coders play a critical role in the processing of patient health records. After a patient receives medical care – whether, in a hospital, doctor's office, outpatient clinic, or anywhere else – the medical coder begins converting these medical services into specific codes so a claim can be submitted for payment. Medical billers then track that claim to ensure the health care facility receives reimbursement for the services rendered. These medical coding and billing responsibilities are typically combined into one position but can be broken down into two separate jobs for larger medical facilities. Medical coders and billers help ensure the services provided during medical visits are categorized correctly, which is imperative when it comes time to submit, bill, and process insurance claims.
Which Aspects of Medical Coding Are Most Difficult?
One of the most difficult aspects of medical coding is knowing the thousands of codes from numerous code sets that are updated on a regular basis. Additionally, because medical coders are required to convert complex medical notes and information into specific, clearly defined codes, people in this career field must have a basic understanding of health-related subjects such as anatomy, physiology, and medical terminology. If you're starting to feel overwhelmed by these challenges, rest assured
there are silver linings to both
. First, it's important to know that medical coders don't actually have to memorize all of these codes. Instead, they utilize reference codebooks and software programs to ensure accurate coding assignments are made. Second, you won't need to be a full-blown expert in these healthy subjects; you just need to
have a basic knowledge of them
. All the information you need to succeed in this field will be taught in your medical billing and/or coding program.
How to Determine if This Field Is a Good Fit for You
If you're a motivated, detail-oriented individual who's looking for an in-demand career that's essential to the health care industry and is challenging but manageable, medical coding may be a great fit for you. Because medical coders utilize complex computer software programs, individuals looking to make their way into this field must possess strong keyboard and computer skills and be willing and able to master the software components of this job. With employment rates projected to increase by 15% from 2014 to 2024 – a significantly faster growth rate than the
average for most occupations
– it's certainly an attractive career field, both for individuals who are just making their way into the workforce as well as those considering a career change.
Ready to Start Mastering Medical Coding?
The
Allen School of Health Sciences
offers a top-notch online medical billing and coding program that will equip you with the skills, training, and knowledge you need to begin an exciting career in health care, all without ever leaving the comfort of your own home. This program will also fully prepare you to utilize the new ICD-10 coding system (which only recently went into effect nationwide) with ease. For more information about this in-demand career field or to begin the application process today,
contact us
online. We look forward to making you our next great success story!
CONTACT US