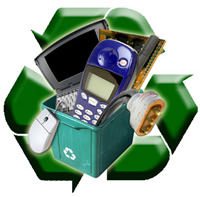 If so, you'll be dealing with the issues surrounding what to do with your old computer. 
Discussions on the technologies used to take our medical billing and coding online course are a regular feature
of the Allen School Blog.  In these posts, we seek to provide good information to help our online students maximize their experiences studying by remote.  Today's post deals with the best practices you should use when disposing of an old computer, tablet, handheld or other device. As we shared in
this recent post
about the end of Microsoft support for Windows XP, it may be time for many people to bite the bullet and buy a new computer.  Yes, you can opt to purchase a newer operating system like Windows 7 or Windows 8.  But chances are, if your machine is running XP, its probably at least 8-10 years old.  And with a new OS costing close to $200 (and the prices of new computers lower than ever before) you may be better off simply purchasing a new machine that comes with the latest operating system pre-installed.  But what to do with the old machine and the likely sensitive personal data that may be stored in the memory banks therein? Dan Tynan for Yahoo! Tech explains the five key things you must do to properly dispose of old computer gear without leaving yourself vulnerable to identity theft or polluting the environment. The five things are as follows:  Back it up, wipe it down, destroy it, recycle, keep records. 
Click here
to read the details from Dan's article and protect yourself and the earth when it is time to upgrade your hardware.