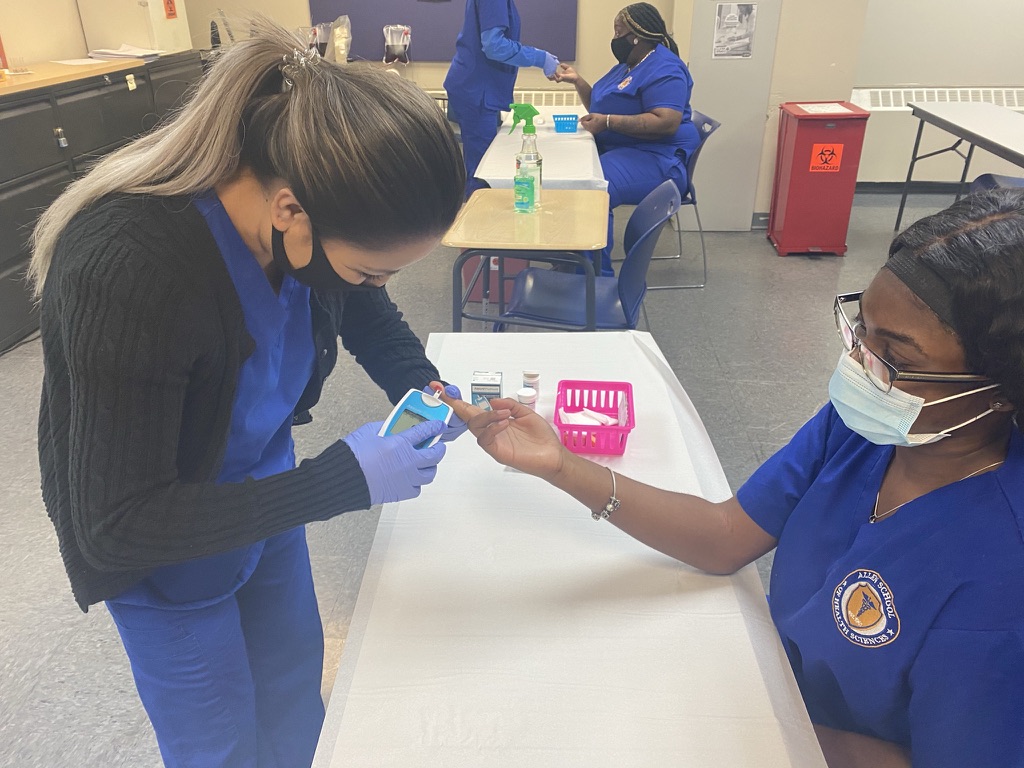 Healthcare is one of the fastest growing industries in the United States. It will continue to experience rapid growth as America's aging population increases in size, creating an even greater demand for healthcare services. This means that now is the perfect time to begin a career as a Medical Assistant.
There are several types of MA's, all of which are vitally important to the healthcare teams they are a part of. An MA will work alongside physicians and other healthcare providers to assist with patient care, handle administrative tasks, and complete clinical procedures. In many clinics and doctors' offices, an MA is in charge of managing the office, which allows the physician to devote more time to providing top-quality patient care.
Employers set their own educational requirements for the Medical Assistants they hire. The standard is typically a minimum of one-two years of formal training at a technical or vocational school, resulting in a certificate, diploma or associate's degree.
Duties and Responsibilities of Medical Assistants
Although the duties of an MA may vary somewhat from one job to the next, they all work to keep doctors offices and clinics running smoothly. In all cases, an MA performs delegated to them with the goal of supporting the physician in providing the best possible patient care. In smaller practices, the MA may perform virtually all office and clinical tasks, but in larger practices, may have a specialized function, which may include managing other staff.
Types of Medical Assistants
There are three main types of Medical Assistants: Clinical, Administrative, and Specialized .
1. Clinical Medical Assistant
A clinical Medical Assistant's primary focus is on patient care, conducting assessments, and performing other clinical tasks. This may include preparing patients for medical examinations, documenting vitals and medical histories, instructing patients on home care, performing minor treatments, and assisting the physician during examinations. While the job duties of a clinical MA are broad, the main focus will be on the clinical aspects of the practice.
2. Administrative Medical Assistant
Administrative Medical Assistants mostly perform administrative tasks such as managing patient records, making appointments, answering phones, maintaining the front desk and reception areas, and performing general accounting and billing. Administrative MAs play a pivotal role in physicians' offices. They ensure that the business side of the practice operates smoothly to ensure minimal interruption to the physician's core function of providing patient care. To be effective in this position, job candidates should have superb written and oral communication skills, proper phone etiquette, above average computer skills, and a basic understanding of medical terminology.
3. Specialized Medical Assistant
Specialized Medical Assistants perform specialized clinical tasks, since their specialized training allows them to work closely with physicians and serve patients more directly. Depending upon the size of the medical practice, specialized MAs may report directly to the physician, or to an administrative manager. The specific tasks will depend largely on their area of specialization, size of the practice, and the number of assistants on staff.
There are many specialized Medical Assistant certifications available through the Association of Medical Technologists. To receive certification, MAs must complete an accredited training program and pass the certification examination. In many cases, certified Medical Assistants earn higher wages and have better job opportunities than those without certification. Whether interested in a career as a Clinical, Administrative , or a Specialized Medical Assistant, this career promises ample employment opportunities, great earning potential, and a career that is both challenging and rewarding.
If you're ready to pursue a successful career in the healthcare field and interested in learning more about developing the skills and attributes of a medical assistant. Contact the Allen School of Health Sciences Today! We are offering virtual campus tours for enrollment for our classes starting soon. Contact the Allen School today! We cannot wait for you to become part of the Allen School family. Visit www.allenschool.edu to learn